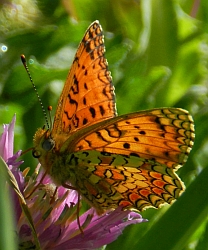 The Sierra de Grazalema
Late-spring wildflowers, butterflies, birds and a wealth of other wildlife of Western Andalucía
The Sierra de Grazalema is one of south-western Spain's natural wonders. Its rugged limestone terrain rises to 1,654m and attracts an average annual rainfall of 2200mm, providing a refuge for all manner of wildlife that cannot survive in the arid plains round about. Grazalema is perhaps best-known for its relict Spanish Fir forest (el pinsapar),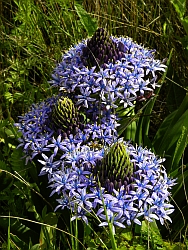 © Teresa Farino but is also home to around 1,300 species of vascular plant (including some 30 orchids), as well as more than 220 species of vertebrates, notable among which are a healthy population of Spanish Ibex, the diverse forest and cliff-breeding bird communities and a rich amphibian and reptile fauna.
Grazalema is an outstanding spring destination for the travelling naturalist. Quite apart from the diversity of birds to be seen in this corner of Spain – ranging from Griffon Vulture to Greater Flamingo, from Blue Rock Thrush to Purple Gallinule – Grazalema's flora is outstanding, rich in spring wildflowers and including many attractive species that are confined to the Iberian Peninsula.
During the week we will be exploring the limestone rock gardens, meadows and pastures, Spanish Fir forests and dehesas of Cork and Western Holm Oak of the Grazalema Biosphere Reserve and parque natural (53,439ha). Here we can expect to encounter a wealth of spring-flowering monocots, notably Spanish Iris, Portuguese Squill, Spanish Bluebell,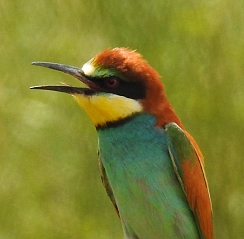 © Teresa Farino Anthericum baeticum, Ornithogalum orthophyllum and the eye-catching O. reverchonii, as well as several members of the Orchidaceae. Other notable spring-flowering plants of the area include Iberian endemics such as Western Peony and the related, but much rarer, Paeonia coriacea, the white-flowered saxifrages Saxifraga bourgeana, S. globulifera and S. haenseleri, the diminutive Viola demetria, the chunky, silver-leaved viper's-bugloss Echium albicans, the toadflax Linaria platycalyx and the stunning cliff-hugging knapweed Centaurea clementei and bellflower Campanula mollis, as well as the brick-red poppy Papaver rupifragum, which is unique to the limestone screes of Grazalema.
Among the birds to look out for are those of rocky habitats such as Alpine and Pallid Swifts, Crag Martin, Rock Thrush, Blue Rock Thrush, Black Wheatear, Rock Sparrow and Chough,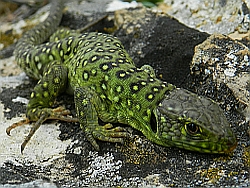 © Teresa Farino as well as an abundance of Griffon Vultures (some 320 pairs breed here) and the possibility of Egyptian Vulture, Golden and Bonelli's Eagles and Peregrine Falcon. More Mediterranean habitats harbour Scops Owl, Bee-eater, Thekla Lark, Sardinian and Subalpine Warblers, Black-eared Wheatear, Southern Grey and Woodchat Shrikes and Rock Bunting. By contrast, the thick Spanish Fir forests are home to little more than Bonelli's Warbler, Iberian Chiffchaff and Short-toed Treecreeper, but our visit to this habitat is likely to be enlivened by sightings of the splendid Spanish Ibex and coloured by Paeonia coriacea and Red Helleborines.
The reptiles of Grazalema are many and varied, with the most commonly seen species including Large and Western Psammodromuses, Vaucher's Wall and Ocellated Lizards and Iberian Three-toed Skinks; we should also keep an eye out for the endemic Maria's Worm-lizard Blanus mariae, as well as the increasingly scarce European Pond Terrapin. In warm sunny weather myriad butterflies take to the air, including the striking Spanish Festoon, Scarce Swallowtail, Large Tortoiseshell and Provence Orange Tip, as well as Green-striped, Western Dappled and Wood Whites, Berger's Clouded Yellow, Lorquin's and Panoptes Blues, Provence Hairstreak and a number of colourful fritillaries, notably Spanish, Marsh and the extremely local Aetherie. We also usually manage to track down Sage Skipper, Spanish Gatekeeper, Cardinal and Two-tailed Pasha at this time of year.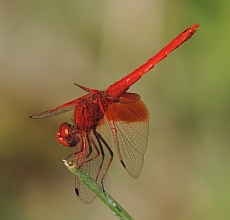 © Teresa Farino
Plenty of dragonflies should also be on the wing in sunny conditions, with Copper Demoiselle, Orange Featherleg, Western and Pronged Club-tails, Orange-spotted Emerald and Violet and Orange-winged Dropwings perhaps the highlights, and we should also keep an eye out for Ringed Cascader. Other interesting invertebrates of the area include the fabulous Conehead Mantis, its diminutive Iberian-endemic relative Apteromantis aptera, the Megarian Banded Centipede, Striped Oil-beetles, Tarantula Wolf-spiders and the magnificent Andalusian Funnel-web, Europe's largest – and possibly most threatened – spider!
One day during the week we will take time out from the mountains to visit the endorheic lagoon complex of Espera, which is a fabulous place for birds in late spring, with White-headed Duck, Purple Gallinule and Crested Coot all fairly easy to see here, along with Black-necked Grebe,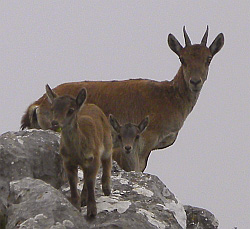 © Teresa Farino Purple Heron, Red-crested Pochard, Great Reed Warbler and even Stone Curlew. Overhead it is worth watching out for Black Kite, Marsh Harrier and Booted and Short-toed Eagles, while closer at hand we might encounter Spanish Terrapins, Large Psammodromus, several species of snakes and amphibians such as Sharp-ribbed Salamander and Stripeless Tree, Iberian Water and West Iberian Painted Frogs.
These wetlands also harbour a wealth of dragonflies, notably Migrant Spreadwing, Iberian Bluetail, Dainty Bluet, Small Red-eye, Blue-eye, Lesser Emperor, Black-tailed Skimmer, Broad Scarlet, Black Percher and Violet Dropwing. The surrounding Mediterranean scrub is worth examining for Roller, Golden Oriole, Black-eared Wheatear and Woodchat Shrike, while the dry grasslands and cereal fields are coloured by pheasant's-eyes Adonis spp., Fennel Flower, Large Blue Alkanet, Yellow Cupidone, Cleonia lusitanica and the curious monocot Biarum arundanum at this time of year.
"We thoroughly enjoyed the wonderful excursion you organised and just wanted to thank you again for the huge effort we know you put in to it all to make it so successful. Grazalema was a perfect centre for us and the surrounding area just superb. My mind is so full of new species and those wonderfully rich assemblages we saw everywhere. Our very warmest thanks to you."
Jane and Maurice C. April 2007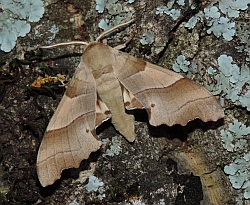 © Teresa Farino
The Sierra de Grazalema
Leader: Teresa Farino, in collaboration with local naturalist Sue Eatock.
2018 Dates: Weds. 30 May – Weds. 6 June (8 days, 7 nights)
Price: 1,480€, including half-board, en suite accommodation in the family-run Casa de las Piedras, picnic lunches, hired minibus transport throughout, all entry fees and the services of Teresa Farino as leader. A single-room supplement of 150€ is applicable.
Although the cost of the tour is given in euros, clients may pay in sterling, the exchange rate to be calculated at the time of payment using www.oanda.com
This is a land-based tour. Flights and travel insurance (obligatory) are the responsibility of the client.
Pick-up details: For this tour, clients will be booking their flights independently. Given that Málaga is about two and a half hours' drive from Grazalema, we have decided that the best option is to start from – and return to – Seville, which is only about an hour and a half from our base. Several airlines fly direct to this destination from a range of UK airports.
In order to give us time for a comfortable journey to the hotel in time for dinner, please choose a flight that arrives in Seville by 15.00 on Wednesday 30 May 2018. For the return journey at the end of the tour, we are unlikely to get to the airport before about 12.00 on Wednesday 6 June 2018, so you will need to select a flight that departs after 14.00. Of course, the earlier and later your flights, respectively, the more opportunity we will have to visit interesting habitats en route.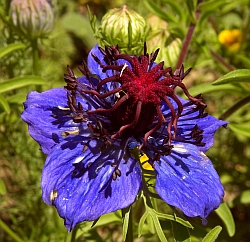 © Teresa FarinoPlease contact Teresa to discuss flight times and pick-up arrangements further if you have any queries, as the itinerary is flexible, up to a point, and it may even be possible to accommodate flights to Jerez, which is even closer.
Alternatively, those travelling to Grazalema independently can arrange to meet the group at Casa de Las Piedras on the first evening.
Group size: maximum 8 clients.
Booking information: please contact Teresa Farino for further details and a booking form, or if you have any queries about this tour.

E-mail:
Office phone:
(+34) 942 735154
Mobile phone:
(+34) 656 337129
Address:
Apartado de Correos 59
39570 Potes
Cantabria
Spain


"Thank you so much for the wonderful time you gave us in the Grazalema natural park. Grazalema itself was such a charming mountain town, and the surroundings were both spectacular and accessible. We were very excited to be introduced to so many choice plants. I very much hope we can join one of your splendid tours again."
James & Joy C. April 2007