Birds and birdwatching in Madrid
Situated in the heart of Spain, the province of Madrid is relatively small, yet contains a remarkable diversity of habitats typical of the Iberian Peninsula, from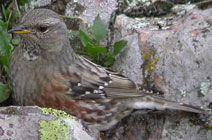 Alpine Accentor Prunella collaris © John Muddeman the high peaks of the Guadarrama mountain range to the lower agricultural areas, steppes and river valleys of the south. This, coupled with excellent road links and all the facilities of the capital makes it an ideal place for the visiting birdwatcher and tourist, and this is what makes watching birds in Madrid so appealing.
About 160 species of birds regularly breed in the Madrid Province, and in total about 240 species occur on an annual basis. This includes a high proportion of the sought-after bird species restricted to this part of Europe, and Spain's reputation of supporting probably the best diurnal birds of prey fauna in Europe is well reflected here too, with some 20 species breeding in the area, along with 6 owls. The wide range of altitudes with the resultant high diversity of habitats allows the coexistence in the higher mountains of southern montane species with birds typical of more northern latitudes, in addition to an excellent selection of typical Mediterranean species in the lower, hotter regions.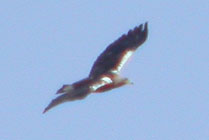 Spanish Imperial Eagle
Aquila adalberti © John Muddeman All corners of the Province can be reached within about an hours drive from the capital, making it an easy place to explore.
In a European context, of the classically 'Spanish' species, the mouth-watering selection of Spanish Imperial Eagle, Eurasian Black Vulture, Lesser Kestrel, Great & Little Bustards, Black-bellied Sandgrouse, Great Spotted Cuckoo, Red-necked Nightjar, Thekla Lark, Melodious Warbler, Southern Grey Shrike, Spotless Starling and Iberian Azure-winged Magpie all breed locally in good numbers, and more rarely, Black Stork, Black Wheatear and Spectacled & Western Orphean Warblers can be encountered.
If this in itself is not an impressive and diverse enough selection, a strong supporting cast of uncommon and/or typically Mediterranean species is also present, including Little Bittern, Eurasian Griffon Vulture, Booted & Short-toed Eagles, Red & Black Kites, Montagu's Harrier, Eurasian Eagle & Eurasian Scops Owls, European Bee-eater, Eurasian Hoopoe, Calandra Lark, Red-rumped Swallow, Alpine Accentor, Black-eared Wheatear, Bluethroat, Rufous-tailed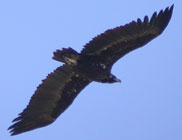 Black Vulture
Aegypius monachus © John Muddeman & Blue Rock Thrushes, Zitting Cisticola, Dartford, Subalpine, Great Reed & Bonelli's Warblers, Eurasian Penduline Tit, Eurasian Golden Oriole, Red-billed Chough, Rock Sparrow, Citril Finch and Cirl & Rock Buntings. In addition, Eurasian Green Woodpecker (of the endemic ssp. sharpei), Cetti's, Dartford & Sardinian Warblers, Short-toed Treecreeper, Common Nightingale and European Serin can also all be surprisingly common in the right habitats, some of these birds even in Madrid's city parks!
The interest in the area certainly does not stop after the spring and summer, and the migrant and winter bird faunas are rather different, though often no less impressive. Many migrants, especially passerines and shorebirds, use the area on their way north in spring, and in greater numbers as they head south in autumn. At these times, almost anything can appear, especially at the various lakes and reservoirs, which act as magnets to birds in this dry region. In winter, the relatively mild conditions are suitable to a wide range of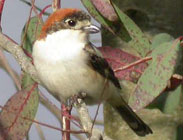 Woodchat Shrike Lanius senator © John Muddeman species, with about 130 regularly wintering species, while rarities can include e.g. a very small number of Ferruginous Duck.

So if visiting, remember that it's not just good for the nightlife, bars and tapas, the museums of El Prado, Reina Sofia or Thiessen Bonemisa, the Bernabeu Stadium, or the impressive El Escorial Monastery at the foot of the Sierra de Guadarrama (itself in the process of being declared a National Park), but Madrid also houses a wealth of birds year round hard to match in most of Europe. Why not come and see it?

Related information…
Birdwatching trips to Madrid
Madrid, wildlife city - an article by John Muddeman
La Mancha and Castilla y Leon - Birds and Birdwatching
Read about John Muddeman
Wildlife holidays and tours in Spain and Portugal