Follow John on Facebook

John Muddeman

Butterflies, dragonflies, mammals, birds and birding in Madrid, Extremadura, La Mancha and Andalucía, Spain

John is a professional tour guide, writer and scientific translator, with a lifelong interest in diverse aspects of natural history. He lives in the Madrid mountains and has guided organised groups and private trips throughout Iberia, Europe and further afield since 1997. Birding is his main field of expertise. More about John…
Where John is guiding in 2022 and beyond
Please contact me direct for details of my private and group wildlife trips and tours for 2022 and beyond as technical issues prevent me from updating the site.
Please click on the tour name/s which interest/s you to go direct to the tour page/s. There you can find more details of what we might see, a provisional itinerary and, in the case of The Travelling Naturalist / Limosa Holidays / Sunbird, access to detailed reports of past trips. Bookings should be made directly with the company in question, but I am always more than happy to answer any queries that you might have regarding the tour. Please note that I am first leader, unless indicated.
Scheduled tours
Dates
Iberian Lynx Quest (Andújar + Doñana) in search of Iberian Lynx and other mammals in the bird-rich mountains and lowlands of Andalucía, plus the wildlife of the woodlands, wetlands and estuarine habitats of Doñana and nearby coast
07 – 14 Jan
UAE & Oman birding Commencing with a couple days in and around Dubai, for its architecture, coast, wetlands and nearby deserts, we then travel overland to the wonderful Sultanate of Oman. After a couple of days enjoying the N, we finish off with a visit to the particularly bird rich area surrounding Salalah in the south.
16 – 25 Jan;
Private tour
Morocco : High Atlas, Sahara & Atlantic coast From the remarkable Erg Chebbi dunes on the edge of the Sahara, through the High Atlas to the green Atlantic coast, a wonderful cross country exploration of this amazing country's rich in wildlife, landscapes and culture.
08 – 18 Mar
Extremadura An early spring tour to this Mediterranean wilderness, with a wealth of birds including the first returning spring migrants and the peak time for displaying Great Bustards and the first flowers and butterflies of the season.
21 – 28 Mar
Andalucía, Extremadura & Gredos Private group tour focussed on enjoying the diverse array of spring species in the beautiful habitats of S and W Spain. CANCELLED – DATES NOW FREE
17 – 29 Apr;
Private tour
Spain – the Grand Tour! From the Strait of Gibraltar looking across to Africa, to the stunning limestone pinnacles of the Picos de Europa! We'll be searching for well over 200 bird species, from Balearic Shearwaters and Rufous-tailed Scrub Robins in the far south, through bustards, sandgrouse, Bluethroat and Dupont's Lark in the centre of the peninsula, to Lammergeier and Wallcreeper in the Cantabrian mountains!
02 – 15 May
Georgia & Armenia From the grassland and crag habitats of the high Caucasus in Georgia down to the fishponds and semideserts of the hot lowlands of the Araks valley in Armenia we'll visit a remarkable range of habitats in search of their abundant, very special birds and rich wildlife.
19 – 30 May;
Private tour
Spanish Pyrenees & Ebro Valley steppes A seven day trip to explore the stunning valleys and mountains of the western and central Pyrenees in search of a fabulous range of species from wallcreeper and Alpine accentor of the high crags to Dupont's lark and sandgrouse in the arid steppes.
22 – 28 Jun
Canary Islands (East + West) A far cry from the sun and sand tourism on the islands, we undertake a four islands tour concentrating on the surprising range of endemic species and other special birds of the remarkable Fortunate Isles.
23 – 30 Jul
Austria : Around Lake Neusiedl Relaxed birdwatching as we return to this lovely corner of C Europe, centred around Lake Neusiedl, Europe's oldest trans-frontier National Park, and spanning from the eastern end of the Alps to the Hungarian, Slovakian and Czech borders!
15 – 22 Aug
Armenia: Cranes, raptors & culture We return again to enjoy Armenia's remarkable diversity of landscapes and habitats, a smattering of its rich and unique culture, and a chance to see Demoiselle Cranes and raptors on their autumn passage amongst many other birds.
27 Aug – 08 Sep
Georgia's raptor migration A week to sample the spectacular passage of raptors and others birds at the western end of the mighty Caucasus range, right during the peak migration window! Far from just raptors we'll also enjoy visits to a couple of internationally important wetlands and the Black Sea coast, with its wide range of habitats and special species.
19 – 26 Sep
Extremadura in autumn: in Spain's secret wilderness A week looking for the remarkable variety of raptors, autumn migrants, and concentrations of resident steppe birds, including bustards and sandgrouse, of this beautiful region
03 – 10 Oct
Iberian Lynx Quest (Andújar + Doñana) We search for Iberian Lynx and other mammals in the bird-rich mountains and lowlands of Andalucía, plus the wildlife of the woodlands, wetlands and estuarine habitats of Doñana and nearby coast.
17 – 24 Oct
Sichuan's sensational mammals & birds! A 16 day mammal bonanza in the heart of China searching for a fantastic range of mammals and birds, including the very recently split Chinese red panda, plus Tibetan wolf, Pallas's cat, Lady Amherst's pheasant and firethroat, amongst plenty of others!
23 Nov – 08 Dec
Extremadura at Christmas A relaxed break to enjoy the excellent numbers of resident and wintering birds of this wonderful region.
21 – 28 Dec
Bespoke tours
Availability
Birdwatching trips in central Spain Tailor-made 1/2-day to 3-day trips in search of bustards, eagles, vultures and much, much more! Madrid, Extremadura, Castilla La Mancha, Castilla y León, Andújar or in combination!
All year round
Birding and Wildlife Tours around Spain Tailor-made 4+ day birding or natural history packages for individuals, couples, larger groups, clubs or associations
Seasonal options; please enquire.
Cape Verde Islands — Where Africa mixes with Europe : A relaxed, bespoke winter or early spring break visiting four of the main islands to enjoy their special birds and other wildlife. Other itineraries possible; pls enquire for details.
Winter & early spring; Please enquire
Extremadura: birds, wildlife and scenery galore! birds, butterflies, dragonflies and swathes of flowers in unforgettable surroundings
Late Feb – mid Oct; please enquire.
Extremadura and Gredos: in the wild west of Spain! spring birds, butterflies, wildflowers and other wildlife of the plains and mountains of the wild west of Spain
Late Apr – mid Jun; please enquire.
Dragonfly and Butterfly watching in C Spain Custom-made day trips and short tours in the Regions of Madrid, Castilla y León and Extremadura
Mostly May – Sept; please enquire.
Dragonflies, Birds & Butterflies: Extremadura with a difference! A terrific opportunity to watch and try to photograph these winged jewels in impressive surroundings
Late May – early July; please enquire.
Brown Bears, Birds & Butterflies in Somiedo Natural Park
& the Alto Sil a two centre tour of the Cantabrian mountains in search of the brown bears, birds and butterflies of this beautiful region
Mid Aug – mid Sep; please enquire.
Extremadura : Winter birding bonanza! Come and enjoy the remarkable number and variety of wintering birds in Extremadura – 180 thousand+ Common Cranes can't be wrong!
Late Oct – mid Feb; please enquire.
Birding in Madrid & La Mancha Eagles, Bustards, Cranes and Culture!
Oct – Mar; please enquire.
Wallcreepers and Cranes in Aragón A two-centre trip to enjoy the spectacle of wintering Wallcreepers in the pre-Pyrenees and massed Common Cranes, plus a fine selection of other birds and a mammal or two!
Late Nov – 3rd week Feb; Please enquire for dates
About John Muddeman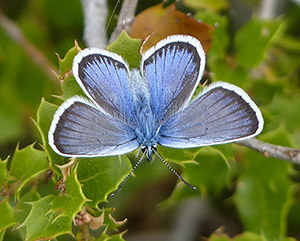 A naturalist at heart, I have been interested in wildlife, and particularly birds, quite simply since before I can remember, and have now accrued over 40 years of birdwatching experience. Following my first trip as a guide to Islay in W Scotland in October 1996, I rapidly became 'hooked' and have had the immense pleasure of leading over 250 group tours on five continents since. This has been mainly as a principal guide for The Travelling Naturalist, but periodically for a number of other highly respected UK-based companies too, including Limosa Wildlife Holidays, Honeyguide Wildlife Holidays and Island Holidays. In addition to mainly leading English-speaking visitors from the UK and the US, I have also co-led Swiss, Austrian, Japanese and, of course, Spanish groups too, and I strongly believe that good communication skills as well as adaptability are fundamental and integral requirements of guiding.
Having been drawn to central Spain in early 1997 by a Spanish señorita, to whom I am now married, I rapidly fell in love with the diverse landscapes,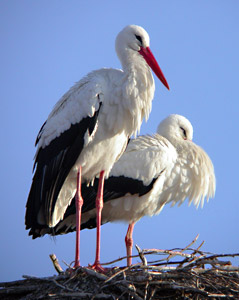 © John Muddeman huge horizons, extraordinarily rich wildlife, language, culture, the people, food and generally good weather of the Iberian Peninsula! While forming an integral part of Iberian Wildlife Tours since its foundation a few years later, since summer 2012 my main focus has concentrated on being a principal guide for Spainbirds Nature Tours, Spain's first specialist wildlife travel agency. Apart from offering a series of week-long tours for English-speaking visitors to most of the major birdwatching destinations in Spain, this has also involved establishing and guiding a variety of different excursions for SEO/BirdLife (the Spanish Ornithological Society), ranging from day trips in central Spain, through long weekends in Doñana and the Pyrenees and up to longer tours in Morocco, Scotland and Romania.
Apart from specialising as a guide in Spain –with extensive personal and guiding experience throughout the area covered from Doñana and the Strait of Gibraltar to the Balearics, the Pyrenees and Picos de Europa, plus the Canary Islands, several of these in conjunction with Teresa Farino–, I have also led groups in such 'classic' European destinations as Scotland, Finland, Estonia, Poland, Romania, Bulgaria and Lesvos, as well as further afield in Canada, Galápagos & Ecuador, Trinidad & Tobago, South Africa and New Zealand in direct collaboration with local guides. This has also included numerous trips for individuals and small groups, particularly to see such key species as Cinereous Vulture, Spanish Imperial Eagle, White-headed Duck, Pin-tailed Sandgrouse, Houbara Bustard, White-rumped Swift, Balearic Warbler, Fuerteventura Chat, Dupont's Lark and Blue Chaffinch, and can legally offer completely tailor-made tours for any group size through Spainbirds Nature Tours.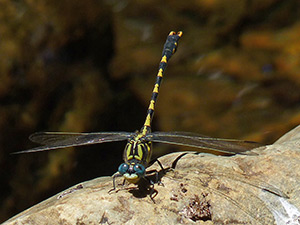 © John Muddeman Birds have remained as my principal focus since the very beginning, but I have wide natural history interests, especially regarding identification, including botany (particularly orchids), mammals, reptiles, amphibians, dragonflies, butterflies and moths. Following post-graduate research work on passerines at Oxford University, extensive volunteer work on the Birds of Armenia Project in Armenia in 1995 led to almost a year in the United States helping write, correct and give advice on production of the Field Guide to the Birds of Armenia, and subsequently to edit the Handbook of the Birds of Armenia. As a Spanish-English translator and writer too, my highly successful "A Birdwatching Guide to Extremadura" was published in 2000 (please note that this is finally being updated for publication this winter!) and I continue working on The Birds of the Balearic Islands in the hope of eventually publishing it sometime in the future, too! The extraordinary region of Extremadura continues to hold a particular fascination for me and apart from the remarkable bird life, it is also rich in special dragonflies and butterflies, which formed part of a new Dragonflies, Birds and Butterflies tour in 2014. As an honorary member of GUIDEX I am also an officially recognised and accredited Wildlife and Birdwatching Guide for the region.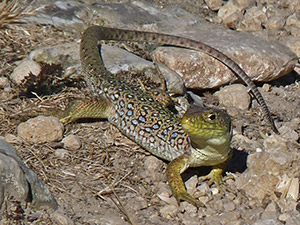 © John Muddeman A side-line of these natural history interests is digital photography, including digiscoping, and I have begun to build photographic databases of Iberian dragonflies, butterflies and moths. However, please note that I don't have or carry around expensive photographic equipment, so this is not a terribly 'glossy' site! A few of these pictures are shown here and elsewhere on the site. I am also an 'Expert' on birds for Fotografía y Biodiversidad (Photography & Biodiversity), a citizen-science, Spain-based website but with worldwide scope, where users can upload digital images of anything related to the natural world to get identification opinions from the experts in each group. With over 1 million geo-referenced images posted to date, it is one of the largest banks of its kind and a remarkable conservation resource.
A firm believer in supporting regional, national and international conservation bodies, I am also a paying member of FyB, the RSPB, formerly SEO/BirdLife – including as an expert bird ringer from 1999 to 2013 –, the British Trust for Ornithology, the Fundación Oso Pardo and a former long-term subscriber to Birding World and also Quercus, the foremost wildlife magazine in Spain.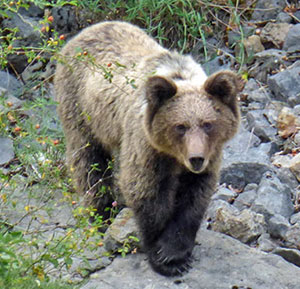 © John Muddeman I also contribute when possible to the phenological records program of SEO/BirdLife and voluntarily participate in some of their other census projects when time allows.
While obviously always endeavouring to get the most from each of the areas visited, I am also a firm believer that a holiday should be just that, with time for rest and relaxation and the opportunity to enjoy the sights and sounds of the surroundings. Naturally, our tours are planned around the very best times to try and observe the different wildlife phenomena in the country, so please see the tours, listed by date, in the table below. Let's hope that one of these trips is for you!
Please take a look at further details of the trips listed above, either in the relevant web pages (just click on the tour titles), or by contacting me directly (see below). But if you can't make the dates, please also remember that all these tours (and tailor-made variants) can be made as private options – please just drop me a line!
E-mail:
Office:
(+34) 918 989195
Mobile:
(+34) 649 608747
Address:
C/ Alcocer 1, 1-C
Fresnedillas de la Oliva,
28214 Madrid
Spain