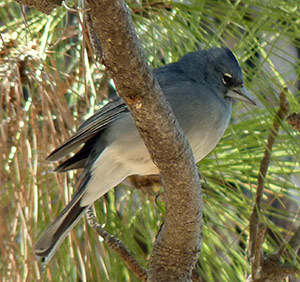 Canary Islands : endemic land birds, seabirds and other wildlife
With its unique range of endemic birds -including plentiful subspecies-, reptiles, butterflies and plants, the biodiverse Canary Islands are high on the list of special regions in Europe, and indeed the world, to visit. In summer, the number of seabirds either breeding or using its waters for feeding reaches a peak and the range of cetaceans in its waters remains high, providing the perfect combination for a wildlife tour. In winter, the sunny, mild conditions and main flowering season after autumn rains make it a superb break from the dull, cold north!
© John Muddeman Shying away from the 'usual' combination of being based on Tenerife and taking a quick return plane trip to Fuerteventura, the shorter tour focuses just on the mighty volcanic island of Tenerife and its smaller neighbour La Gomera, while the longer tour spends equal time between both the still wilder and more bird-rich eastern islands, before transferring by ferry to the central-western islands. This crossing provides us with a unique opportunity to look for the wavetop-springing White-faced Storm-petrel and rakish Bulwer's Petrel in their deep-water feeding areas, plus chances of other pelagic seabirds and also whales and dolphins, in addition to still visiting the Teide crater and remarkable laurisilva of La Gomera in our search for Canary Island Stonechat, Tenerife Blue Chaffinch, Bolle's & Laurel Pigeons, plus many other very special species.
Politically part of Europe, but lying off the NW coast of Africa and on the edge of the W Palearctic, the Spanish Canary Islands are naturally in a special location in terms of biodiversity. Indeed, their sub-tropical climate and volcanic origins spanning millions of years have allowed time for the evolution of a remarkably wide range of endemic fauna and flora, most of which remains to this day, in contrast to many other island groups.
The arid semi-desert conditions experienced over most of the much older and lower E islands of Fuerteventura and Lanzarote change as one travels west through the archipelago. Dense clouds often shroud the often precipitous slopes and peaks of the C and W islands, thanks to the NE trade winds bringing in moisture-laden air, so locally ameliorating the climate. And this has allowed the establishment, diversification and survival of ancient evergreen laurel forests so special to these islands -the laurisilva-, complete with a unique suite of birds and insects in particular. Apart from two bat species, in the absence of native land mammals, lizards and skinks, including several now sadly critically endangered giant lizards, are also widespread and quite diverse, forming a fascinating integral part of this diversity, though are more associated with the more arid middle and lower heights.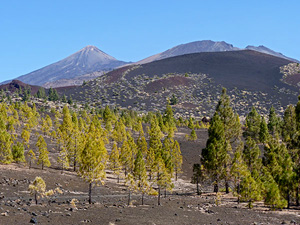 © John Muddeman
Not surprisingly, a series of geologically and biologically unique areas are present and no less than four of Spain's National Parks are located here. The highest mountain peak in Spain and the third largest oceanic volcano in the world - Mount Teide - in the National Park of the same name, is in some ways the crowning glory, especially as it is literally ringed below the bare summit by the endemic Canary Pine forest, but only forms part of the larger picture. Indeed the Canary Islands form an important part of Macaronesia, the N Atlantic islands complex.
The tour concentrates on the still rich and relatively well-preserved bird life present on the islands, but will also look at the commoner reptiles, butterflies and some of the flora and other fauna as we travel. In order to see the endemic species, such as the peculiar Tenerife Blue Chaffinch, Canary Island Chiffchaff, dainty Canary Island Stonechat, and look for other Macaronesian endemics such as the rare and declining Barolo Shearwater, Berthelot's Pipit, and a whole suite of unique subspecies, including the still relatively common fuerteventurae Houbara Bustard, it is necessary to travel to both the eastern and west-central islands.
© John Muddeman In summer we also make special use of the inter-island ferries in order to move around, so avoiding an internal flight. The long route from Lanzarote to Tenerife will give us the best chance of pelagic species, which are also at their richest at this time of year, as well. While the abundant Cory's Shearwaters will keep us alert throughout, the gorgeous White-faced Storm-petrel is regularly observed over the deep water crossed by this route and is the main attraction alongside the moderate numbers of Bulwer's Petrels, maximizing our chances for seeing these species. Barolo Shearwater (which we'll also look for from the coast) is still occasionally observed between Tenerife and La Gomera, which we also cross at least twice on a day trip to the latter island. And there is always the outside chance of even rarer species, such as Red-billed Tropicbird, which has begun to breed on the islands, or perhaps other storm-petrels or a skua or other pelagic wanderer. The larger size of these ferries means that although the distances to the birds are greater, the extra height allows for a much greater field of view and even more importantly, far greater stability is guaranteed compared to small and much more costly charters. Over 30 cetacean species have been recorded in Canarian waters and while it's always pure luck to come across the rarer species, a populations of Short-finned Pilot Whale and Bottle-nosed Dolphin produce regular sightings, while Sperm Whale plus Risso's and Atlantic Spotted Dolphins are resident, and Loggerhead Turtles and flying fish are also regularly encountered.

© John Muddeman
On the eastern islands we make visits to both Fuerteventura and Lanzarote. Here we cover semi-desert and mountain areas for Egyptian Vulture, Barbary and Eleonora's Falcons, Houbara Bustard, Cream-coloured Courser, Atlantic Canary, koenigi Southern Grey Shrike (which is commoner here than further W) and of course Canary Island Stonechat, plus the eastern islands' races of various species including Eurasian Stone-curlew, African Blue Tit,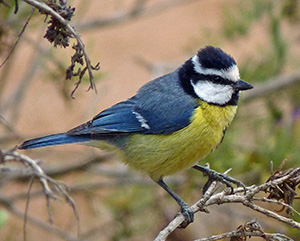 © John Muddeman Lesser Short-toed Lark and Trumpeter Finch, plus Ruddy Shelduck, Black-bellied Sandgrouse and Laughing Dove. Unfortunately, exotic species such as Common Mynah, Red-vented Bulbul and African Sacred Ibis have a strong foothold in parts of Fuerteventura, and we need to keep an open mind, though most have less trouble accepting the well-established Barbary Partridges! Good populations of the attractive Atlantic Lizards and the introduced but often amusing Barbary Ground Squirrels will also keep us occupied during our searches for birds.
Visiting Tenerife, where we base ourselves for the central islands, plus visiting La Gomera for a day, takes us to the realm of the laurisilva and its associated species: Laurel and flighty Bolle's Pigeons, diminutive "Tenerife" Goldcrest, colourful canariensis Common Chaffinch, superbus European Robin and the decidedly uncommon granti Eurasian Sparrowhawk among them. The flora here is very diverse and walks along tracks and roadsides will allow us opportunities to enjoy this variety and also the butterflies present, which include Gomera Brimstone, Canary Speckled Wood, Canary Blue and Canary Red Admiral,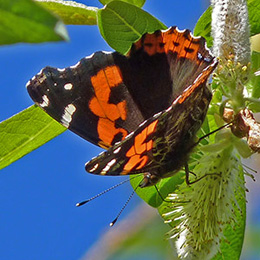 © John Muddeman as well as perhaps the rare Canary Island Large White. With water constantly available in the reservoirs and irrigation tanks, a few interesting damsel- and dragonflies are also present, including the endemic Island Darter, showy Red-veined Dropwing, tricoloured Saharan Bluetail and the only recently discovered Ubiquitous Bluetail, if we can find accessible water and then them! The endemic reptiles are well represented here, with Tenerife and Boettger's Lizards locally present on their respective islands, as are unique species of geckos and skinks for each island, despite some being tricky to find!
More widespread birds or those in the more arid lowlands include Plain Swift, teneriffae African Blue Tit, orbitalis Spectacled Warbler, leucogastra Sardinian Warbler, Atlantic Canary, and Berthelot's Pipit, while we also search for the rare and declining population of Rock Sparrow in the higher fields and grassy mountainsides of Tenerife. Another Tenerife speciality, this time of the Canary Pine forests, is the canariensis Great Spotted Woodpecker, though the undoubted star here is the emblematic Tenerife Blue Chaffinch. Another feature of Tenerife is the clear zonation of habitats present from the arid lowlands, through the more humid middle mountains in the N to the very dry high peak of Teide, each complete with its range of habitats and species.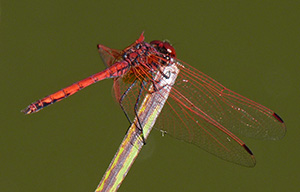 © John Muddeman Several plant genera exhibit remarkable levels of radiation into different species across the archipelago, including a surprising range of spurge Euphorbia species, which range from tall cacti-like species to the low, bushy fat-stemmed tabaibas, and also the viper's-buglosses (Echium species), varying from annual rosettes to some which grow as low trees, and including with luck at the time of our summer visit, the stunning red-flowered spikes of the tajinaste rojo which should be blooming in the Teide crater.
The relatively low number of birds likely to be seen on the tour is far outweighed by their quality, but throughout the tour we will keep our eyes and minds open, since the islands continually attract off-course migrants and rarities, especially on the eastern islands in winter. Except on a winter trip, these will only take a very secondary plane to the resident and migrant breeding species, though we will visit a few sites, including the coast and especially a few small freshwater wetlands on Fuerteventura and Tenerife in order to provide a little more variety to the birds and especially the dragonflies we aim to see in particular.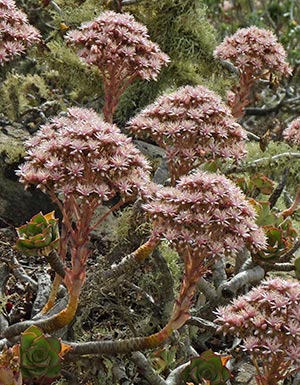 © John Muddeman
Canary Islands : endemic land birds, sea birds and other wildlife
Leader: John Muddeman for Travelling Naturalist and Sunbird Tours
2019 Dates:
Fri. 19 – Tue. 23 Jul 5-day tour (Travelling Naturalist)
Thu. 25 Jul – Thu. 01 Aug 8-day tour (Sunbird Tours)
2020 Dates: Please enquire for details
Price: £2060 pp (single-room supplement £200), excluding flights.
Booking information: please click on the following Spainbirds Nature Tours, The Travelling Naturalist or Sunbird Tours links for all enquiries concerning bookings and tour terms and conditions.
E-mail:
Office phone:
(+34) 918 989195
Mobile phone:
(+34) 649 608747
Address:
C/ Alcocer 1, 1-C
28214 Fresnedillas de la Oliva,
Madrid
Spain