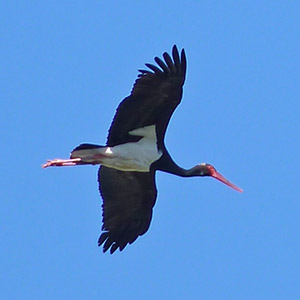 Tailor-made and Custom Birding and Wildlife Tours
in Spain
Apart from the ½-day and full-day options noted on the Birdwatching trips in central Spain page, working in collaboration with Spainbirds Nature Tours I can also offer any tailor-made birding or natural history package within Spain. This can be for individuals, couples, or groups of friends up to large groups, including clubs and associations. For more details of possible dragonfly and butterfly watching and photography trips, please see the Madrid & Extremadura Dragonfly and Butterfly trips.
With restricted time and budgets, travellers often want a birdwatching or wildlife tour orientated specifically to their needs. With personal guiding experiences covering the Strait of Gibraltar, the Doñana and Odiel Marshes areas, Extremadura, Madrid, Castilla La Mancha, Castilla y León, Picos de Europa, western and eastern Pyrenees, pre-Pyrenees, Ebro Delta, N Valencia, Murcia, Sierra de Andújar, Balearic Islands and Canary Islands, naturally I feel well-placed to be able to offer options to these areas! These have included such iconic sites and their surroundings such as the Alcornocales Natural Park, La Janda, Strait of Gibraltar, the Laguna de Fuentedepiedra, Coto Doñana and Guadalquivir marshes and rice fields, the Cáceres - Trujillo steppes, Monfragüe National Park, La Mancha lakes, Hoces del Duratón Natural Park (Segovia), Sierra de Gredos, Sierra de Guadarrama, El Pardo, Madrid's western sierras, Laguna de Gallocanta,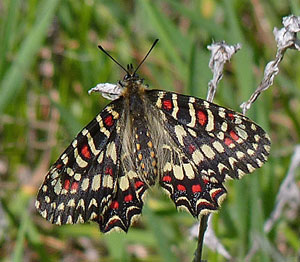 © John MuddemanDaimiel National Park, Cabañeros National Park, Somiedo Natural Park, Ordesa National Park, Riglos, Sierra de Guara and Llobregat Delta amongst others.
Please contact me by email here , providing as much detail as possible of when, where and what you like to see, and I will send you a detailed estimate and proposed itinerary as soon as possible, without any commitment on your part whatsoever.
For similar trips, please see my trip reports in the Iberian Wildlife Tours blog.
Please remember that if buying a package from a Spanish operator, this must be backed by a Travel Agent, otherwise it is illegal and you are not protected by law. Spainbirds Nature Tours is the first specialist birdwatching and wildlife-watching tour operator in Spain accredited by the Spanish Tourist Board affording you this protection.
"I want to thank you for our recent very successful 7-day Canary Islands private tour that you led for my wife and me. I really appreciate all of your hard work both on the tour and especially for all the required pre-tour planning. I know how much work goes into planning a multiple island tour. We had excellent success on the tour with all of the endemic species and subspecies. You knew right where to go for each one. We also enjoyed your company and your knowledge of the islands' geography, culture, and the natural history of the other fauna and flora. Our lodging and transportation was perfect and the food was great. Things could not have gone better. We hope to join you in the future on one of your other tours. Thanks, again."
Phil and Barbara D. (MD USA) July 2017
DESTINATIONS FOR SINGLE & 2-DAY TRIPS - SOME IDEAS!
MADRID
Remarkably, despite ranking as highly in quality terms as the rest of inland Spain, most of the excellent birdwatching opportunities in Madrid remain virtually unknown to many birders. During a full day's guiding one may see Great and Little Bustards plus Black-bellied Sandgrouse in the agricultural areas of the North-East, Eurasian Black Vultures and Citril Finches in the Guadarrama mountains, or even endemic Spanish Imperial Eagle and Iberian Magpie in the huge El Pardo park. These are just to mention a few of the special species which still survive no further than 45 minutes drive from a city of 3.5 million inhabitants and the overal richness can be judged by a typical day list varying between 70 and 90 species! For those who are also keen on museums, the shows, a fine variety of local food and wines, including of course true tapas, Madrid offers travellers a terrific range of possibilities…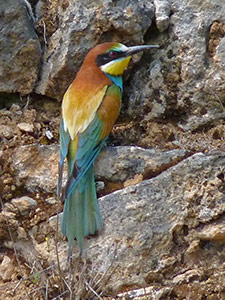 © John Muddeman
GREDOS MOUNTAINS
Two and a half hours from Madrid, the Sierra de Gredos mountains offer an excellent chance of easily locating some of the species most sought-after by foreign birders. In spring and summer this ranks as of the very best sites in Spain to see Bluethroat, Ortolan Bunting and Rufous-tailed Rock Thrush amongst many other birds, plus Spanish Ibex, a fine variety of butterflies and even a suite of endemic amphibians and reptiles! Citril Finches are also present all year round in the pinewoods while Iberian Pied Flycatcher and Iberian Green Woodpecker are regular breeding birds. In the grounds of our favoured hotel there, Eurasian Scops Owl, European Nightjars, Dartford Warbler and Rock Bunting can all be found!
WETLANDS & AGI-STEPPES OF LA MANCHA
Just 90 minutes south of the capital, between the provinces of Cuenca, Toledo and Ciudad Real extends a vast flat region known as La Mancha. Among the huge expanses of arable fields, vineyards and olive tree plantations lies a complex of wetlands where a remarkable variety of localised birds still survive. In winter thousands of Common Cranes can be easily seen here, but spring is the most exciting season with breeding Black-necked Grebe, Greater Flamingo, Purple Heron, Purple Swamphen and a range of wetland warblers at the lakes, and Great and Little Bustards, Pin-tailed Sandgrouse, Collared Pratincole and Montagu's Harrier highlights among the agri-steppe dwelling species. But the flagship species of La Mancha is without doubt the endangered White-headed Duck, with several dozen pairs breeding and wintering in this region.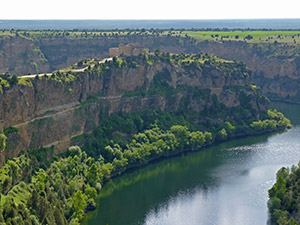 © John Muddeman
EXTREMADURA
A journey of just over two hours by road takes you to the remarkable lands of Extremadura, widely considered as one of the best areas for birding in Western Europe! Raptors abound and steppe specialities are the most representative birds here, including Spanish Imperial & Bonelli's Eagles, Eurasian Black & Egyptian Vultures, Iberian (Azure-winged) Magpie, Great & Little Bustards, Black-bellied & Pin-tailed Sandgrouse, all of which are present all year round. Far more is present of course and you'll want more than just one day…
HOCES DEL DURATÓN NATURAL PARK
It is impossible to speak about the Hoces del Duratón Natural Park without mentioning Dupont's Lark. As close as an hour and a half's drive from the city of Madrid we can take you to the best spot for the well-named "Diablo"! Here on the flat páramo and in nearby gorges of this fabulous reserve Egyptian Vulture, Tawny Pipit, Greater Short-toed Lark, Rufous-tailed Rock Thrush, Western Orphean and Spectacled Warblers and Ortolan Bunting can be also seen in spring / summer, while Griffon Vultures, Golden Eagle, Red-billed Chough and Thekla Lark are present all year round.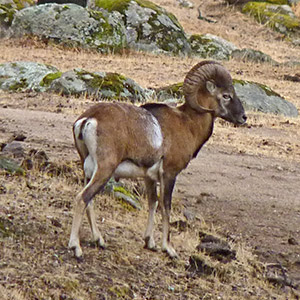 © John Muddeman
SIERRA DE ANDÚJAR & IBERIAN LYNX
In just two days (at a push!) we can also reach as far S as the beautiful and rugged mountains of the Sierra de Andújar in search of the world's rarest feline, the exquisite Iberian lynx. Observations of "the bearded one" are never guaranteed, but plenty of other exciting species are present as we search, including Red and Fallow Deer, Spanish Ibex, Wild Boar and Mouflon amongst the large mammals, plus Spanish Imperial Eagle, Eurasian Black Vulture, Eurasian Eagle-owl, Southern Grey Shrike and Iberian Magpie amongst a fine selection of birds. In season the reptiles, amphibians, dragonflies and butterflies are also richly represented in the area, though a couple of nights or more are far better than just one, of course!
Another option of course is to combine two or three of these areas together over a few days…
E-mail:
Office phone:
(+34) 918 989195
Mobile phone:
(+34) 649 608747
Address:
C/ Alcocer 1, 1-C
28214 Fresnedillas de la Oliva,
Madrid
Spain


[Madrid, Segovia & Extremadura] "Once again a massive thank you for all what you did on our trip to Spain. My nephew Steve and I had a fantastic time and saw much more than could be hoped for! All the best for the future"
Chris L. (UK) May 2017