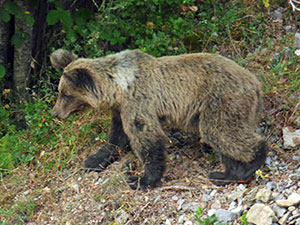 © John Muddeman
Brown Bears, Birds & Butterflies in Somiedo & the Alto Sil
A week-long tour at two centres within the core area for breeding Brown Bears in Spain, looking for these superb animals, other mammals and the late summer birds, butterflies and other wildlife in stunning surroundings
Seeing wild Brown Bears behaving naturally in native habitat is tricky at best in Europe, with almost all opportunities at hides where the animals are deliberately fed to bring them in. However, the artificial provision of food is not allowed in Spain and so special natural feeding opportunities for the bears during a very short period each late summer provide a unique opportunity to observe them in the wild in the species' stronghold in the western Cantabrican Mountains.
In order to continue to both promote good wildlife watching practices and also support the long-standing conservation work which has helped bring the species back from the risk of extinction, we liaise with the Brown Bear Foundation (FOP in Spanish). Our dawn and dusk watches will be largely determined by their recommendations, not only to stand the best chance of locating some of the bears inhabiting the region, but also to undertake these watches without impacting on the bears themselves, as well as hopefully locating a few of the other larger mammals present. We also hope that the foundation will be able to give us a talk on different aspects of the bears' behaviour, biology and conservation in the region and indeed throughout the territory the species occupies across N Spain.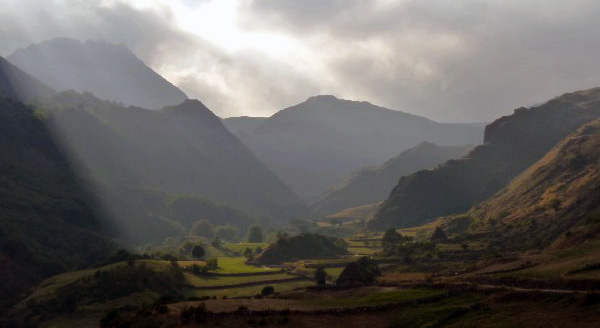 © John Muddeman
Following the tremendous success of the tours to Somiedo in August 2013 and 2014, the conditions in 2015 were very different and highlighted that the change to include the Picos de Europa was less rewarding than hoped. So in 2016 we return to combine Somiedo with the area of the Alto Sil to the south.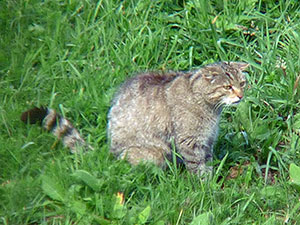 © John Muddeman As bears are most active around dawn and dusk, and it is rare to see these remarkable creatures during the central part of the day, we make daily local excursions during the central hours mainly to observe some of the other wildlife present. This enables us to concentrate more on the butterflies and birds then, including the opportunity to visit one or two new sites compared to previous years. We will look at just about everything we can though, as we do during the watches themselves!
We start the tour from our excellent hotel in Villablino, in the region of the 'Alto Sil' (the upper reaches of the Sil catchment) in northern Castilla y León. This is an area of mainly lower mountains with acid rocks and soils, where large stands of Bilberry are present in the higher areas and dense deciduous forests clothe much of the gentler slopes. We stay here for two nights, before returning to the rugged limestone mountains of Somiedo, where bare rock pinnacles tower over huge boulder and scree fields flanking the steep mountainsides below them, these in turn giving way to dense woodland and scrubby grazed pastures, plus irrigated meadows in the valley bottoms. Both give us excellent chances for seeing wild Brown Bears in their native habitat, as well as opportunities for a wide range of other mammals, including Wild Boar, Southern Chamois and Red Deer, while there's always a very outside possibility of something rarer, such as Grey Wolf or Wild Cat.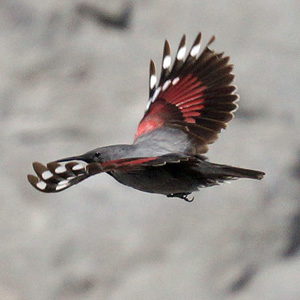 © Santiago Villa / Spainbirds
While watching the Brown Bears and their behaviour forms the core of the tour, time will also be actively spent looking for the birds of the region. While many of the locally breeding birds will be moulting and rather quiet at this time, the range of species will be boosted by a few migrants which should have appeared. Raptors will include good numbers of Griffon Vultures, while we may be lucky with a late Egyptian Vulture or even wandering Cinereous Vulture, a few European Honey-buzzards and Short-toed Eagles are still on territory, and resident Golden Eagle, Northern Goshawk and Peregrine can all make an appearance. Characteristic and special birds of these mountains can include Eurasian Wryneck, Iberian Green Woodpecker, Red-backed Shrike, Red-billed & Alpine Choughs, Eurasian Crag Martin, Marsh & European Crested Tits, Iberian Chiffchaff, Firecrest, Short-toed Treecreeper, Whinchat, Rufous-tailed Rock-thrush, White-throated Dipper, Water Pipit & Rock Bunting, while there's always the outside chance of bumping into a Wallcreeper or two, as dispersing birds wander the mountains after breeding.
If we're lucky as in 2014 and the season's particularly late, then we can also expect a wealth of butterflies during hot weather, and these may include such special species as Red-underwing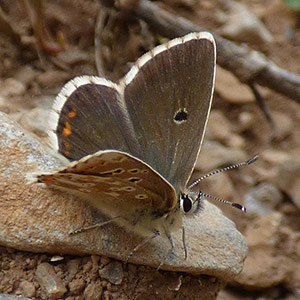 © John Muddeman & Silver-spotted Skippers, Apollo, False Ilex Hairstreak, Scarce & Sooty Coppers, Turquoise & Spanish Chalk-hill Blues, Spanish, Spanish Brown & Mountain Arguses, Cleopatra, Purple Emperor, Camberwell Beauty, Knapweed, Queen-of-Spain & High Brown Fritillaries, Large Wall Brown, Dusky Heath, Piedmont Ringlet, Iberian & Esper's Marbled Whites, Great Banded Grayling, Black Satyr and Rock & Tree Graylings, amongst plenty of others! A few moths, dragonflies and other insects should also be around, including a few attractive burnet moths, the ever impressive Common Goldenring and colourful Yellow-winged Darter, and a few large bush-crickets and red- or blue-winged grasshoppers.
Finally there's always a chance of a reptile or amphibian or two, such as the endemic Schreiber's Green and León Rock Lizards, and we will keep our eyes and minds open as we explore this beautiful, rugged and still rather remote corner of wild Spain, using the search for its most famous inhabitant as our excuse!
"Thank you both for such a wonderful holiday! That sounds rather inadequate for all the marvellous days we had, but we both enjoyed it enormously. It was such a privilege to see those bears in the wild and I am so impressed with the work that the FOP are doing. We enjoyed all the rest too! It seems quite unreal that we looked at a bear yesterday morning! With very good wishes and best regards to you both and many, many thanks once again."
Liz S.
"Dear Santi/John
Just a note to say how much we enjoyed our stay in Asturias. We have been on many birding trips around the world and we both agreed that this was one of the most enjoyable. The scenery, the bears, the birds, the butterflies, the weather (nearly), the food, the wine, the company and of course our two guides were all brilliant. Thank you!"
Margaret and Hugh D.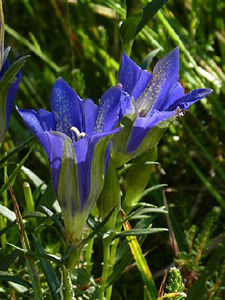 © John Muddeman
Brown Bears, Birds and Butterflies in Somiedo and the Picos de Europa
Leader: John Muddeman for Spainbirds Nature Tours
2017/18 Dates: Mid-August to Mid-September Please enquire for details
ANYTIME DATES by request. Please enquire.
Price: Please enquire for an obligation-free quote. Price per person will include half-board, en suite accommodation at the different hotels, tapas / picnic lunches, air-conditioned transport throughout, airport pick-up and drop-off and the services of John Muddeman as leader. A single-room supplement is usually applicable.
The cost is for a land-based tour. Flights and comprehensive travel insurance (obligatory) are the responsibility of the client, though we can help with bookings. We start and finish at Oviedo (= Asturias!) airport.
For booking, please click on the Spainbirds Booking Form, or contact me directly (see my contact details below). The Spainbirds office will then advise you of the payment details and terms.
Booking information: either follow the link above or feel free to contact John Muddeman for further details and a booking form, or indeed if you have any queries about this tour.

E-mail:
Office phone:
(+34) 918 989195
Mobile phone:
(+34) 649 608747
Address:
C/ Alcocer 1, 1-C
28214 Fresnedillas de la Oliva,
Madrid
Spain


"Just a quickie to say many thanks for a super trip - despite all my shortcomings I did enjoy it and look forward to doing it all again next year. It was totally different to last year as you and Santi get on so well - I have not laughed so much for ages! The more I think about our recent trip the more I realise how much I enjoyed it - everything came together - the group and also the wildlife which behaved impeccably."
Gill G.