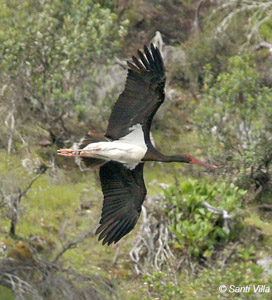 Extremadura: birds, wildlife and scenery galore!
Widely recognised among the top birdwatching destinations in Europe, discover the extraordinary birds and landscapes, plus spring butterflies, flowers and other wildlife of Extremadura, W Spain
Colourful European Bee-eaters and European Rollers hawk from wires, majestic Great Bustards strut the plains and huge skies are thronged with dozens of raptors, including the enormous Eurasian Black Vulture. These are just some of the delights we aim to experience on this tour, as we explore the wealth of wildlife of the plains and mountains of Extremadura, in this somewhat forgotten corner of Europe.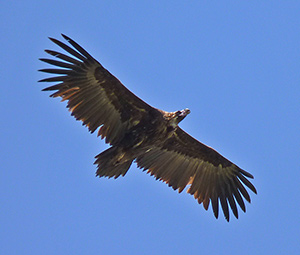 © John Muddeman
But the birds are only an excellent excuse to come and visit this land of vast ancient estates and rolling terrain containing some of the best steppe, woodland and mountain habitats in inland Spain. With over 75% of this vast region qualifying under Internationally Important Bird Area criteria, it is no surprise that the superlatives run short. Some individual sites, such as the remarkable Monfragüe National Park, are considered the best in Western Europe for raptors, including all five Iberian breeding eagles, including several pairs each of the endangered Spanish Imperial and declining Bonelli's Eagles. But the steep slopes, jagged quartzite pinnacles and valley side cliffs with their twisted rock strata also house rich riverine, woodland and cliff assemblages, including such avian gems as Griffon and Egyptian Vultures, Black Stork, Eurasian Eagle-owl, Alpine Swift, Thekla Lark, Red-rumped Swallow, Eurasian Crag Martin, Subalpine, Western Orphean and Sardinian Warblers, Firecrest, Crested Tit, Blue Rock Thrush, Red-billed Chough, Rock and Cirl Buntings, European Serin and Hawfinch. From early May, a few pairs of the rakish White-rumped Swift reappear at one of the few sites they can be regularly observed in Iberia, where their host, the Red-rumped Swallow, abounds. We also keep a keen eye open for mammals, and while most are very nocturnal, the native race of Red Deer is present in numbers, and regular observations of River Otter and Red Fox and the occasional Wild Boar are also made. Other vertebrates include a wide range of amphibians and reptiles, including the endemic Bosca's Newt and the endearing, range-restricted Stripeless Tree-frog.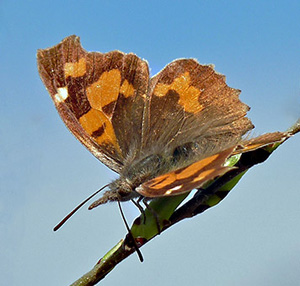 © John Muddeman
Happily in conservation terms, fate provided most of the region with nutrient-poor and shallow, rather sandy soils overlying quick-draining sedimentary and metamorphic rocks. This lead to the development and implementation over huge areas of a unique farming system able to exploit these difficult conditions, through a 3 - 4 year rotational cycle of cropping, fallow and extensive grazing, which in habitat terms is known as dehesa (agricultural wood-pasture). The now treeless areas constitute the vast rolling agricultural pseudosteppe, which being largely non-irrigated and a patchwork of cropped, fallow and grazing lands, still retain impressive numbers of breeding Montagu's Harrier, Stone Curlew, Great and Little Bustards, Pin-tailed and Black-bellied Sandgrouse, Greater Short-toed, Calandra and Crested Larks, Spanish Sparrows and other open ground specialists, and serves as the foraging area for many of the raptors nesting in the nearby woodlands and mountains. This all forms a remarkable small-, medium- and large-scale mosaic, with patches of open steppe grading through scrub to the open park-like dehesa which covers vast areas, which when untouched turns into closed scrub on the rockier hillsides and flanking the valleys, allowing for an even wider variety of habitats and birds.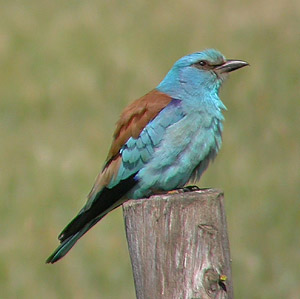 © John Muddeman
White Storks are just about everywhere, Black and Red Kites float low over the trees and roads searching for prey, rare Black-winged Kites hover as they hunt for voles, groups of quarrelsome Lesser Kestrels squabble on rooftops, wheezing Pallid Swifts whizz over the town squares, noisy Great Spotted Cuckoos hop through the flowers looking for hairy caterpillars before yelling at their hosts (the Common Magpies), flocks of marauding Iberian (Azure-winged) Magpies ghost through the dehesa, showy Woodchat Shrikes adorn the wires and bushes at almost every turn, smart Black-eared Wheatears perch perkily on fences and rock outcrops in the open fields and jingling Corn Buntings are found in their thousands. Are all characteristic birds here and still found in numbers very hard to beat elsewhere. Indeed, the first-time visitor is usually simply left amazed to see so many birds, even of common species, given the general declines observed in N Europe. Visits to specific sites are also included for scrub-dwellers such as Melodious, Western Orphean, Spectacled and Dartford Warblers, plus piratic Iberian Grey Shrike, glowing Eurasian Golden Orioles, shreeping Rock Sparrow and among select crags, the retiring Black Wheatear and colourful Rufous-tailed Rock Thrush amongst others.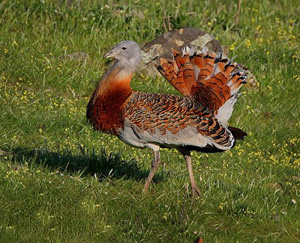 © Javier Esteban Pozo
The flora of the dehesa is rather limited overall, but that said, with a remarkable species-richness at the small scale, being mostly comprised of large numbers of small annual grasses and flowers able to cope with the short spring flowering season. With rains lasting later into the spring, these can leave vast swathes of white, yellow and purple on the fields and plains. Butterflies are consequently also found here in good numbers, from dainty Green-striped, Western Bath and Western Dappled Whites, buttery-coloured Clouded Yellows, spotty Queen of Spain Fritillaries and the dinky Red-underwing Skipper throughout the lower areas, but with sun traps in narrow valleys and scrubby hillsides holding the greatest variety. Species here include Swallowtail and Scarce Swallowtail, Spanish Festoon, Cleopatra, Provence Orange-tip, Large Tortoiseshell, Cardinal, Knapweed and Marsh Fritillaries, Spanish and Southern Gatekeepers, Western, Iberian and Spanish Marbled Whites, Great Banded Grayling, Nettle-tree Butterfly, Spanish Purple and False Ilex Hairstreaks, Black-eyed Blue and Spanish Brown Argus, while in one or two spots with abundant Strawberry Trees, we'll also keep a keen eye open for the very local colourful Chapman's Green Hairstreak and perhaps an early Two-tailed Pasha!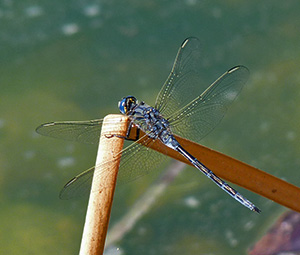 © John Muddeman
The various wetlands in this apparently dry region are naturally highly attractive too, and though usually manmade, often make a welcome, albeit stark contrast to the drier plains. The smaller livestock drinking ponds attract passage waders such as Black-winged Stilt and Little Ringed Plover, as well as serving as drinking spots for sandgrouse, while the larger reservoirs, especially those with fringing reedmace or reeds, and even the wet areas associated with the abundant rice fields in the Guadiana catchment can simply be alive with birds. Western Marsh Harrier, Eurasian Spoonbill, Little Bittern, Squacco and Purple Herons, Great, Little and Cattle Egrets, Water Rail, Purple Swamphen, Cetti's, Great Reed and Savi's Warblers, Zitting Cisticola, Eurasian Penduline-tit, and the rather endearing introduced Red Avadavat and Common Waxbill may all be found. The dragonflies can be good here too, with a rich variety including southern specialities such as Western Demoiselle, Migrant Spreadwing, Iberian Bluetail, Mercury Bluet, Blue-eye, White Featherleg, Lesser Emperor, Western Clubtail, Southern, Epaulet and Long Skimmers, Broad Scarlet, Violet Dropwing and Northern Banded Groundling all possible!
The tour will consequently also serve as an introduction to the reptiles, amphibians, butterflies, dragonflies and flora of the region as well, even though in May in the lowest areas the steppes will already be starting to turn brown and in wetter springs it can still be a bit slow for dragonflies then!
For a provisional itinerary, please see the Spainbirds page for this tour.
"…your fabulous Extremadura trip in October. It was a fantastic trip for me, with many marvellous new birds and great company. I was particularly pleased that we had such good views of almost all of the larger birds. I have received the trip report, for which very many thanks indeed. Reading through it brings back many memories of the trip, and of the great time we had and the amazing birds we saw. Very many thanks for such a fantastic time in Spain."
Geoff P. (UK) October 2011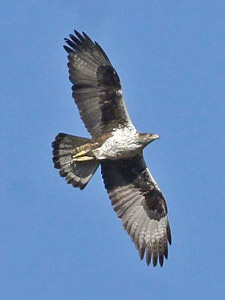 © Santiago Villa
Extremadura: birds, wildlife and
scenery galore!
Leaders: John Muddeman and Santiago Villa for Spainbirds Nature Tours
ANYTIME DATES by request. Please enquire.
Price: Please enquire for an obligation-free quote. Price per person will include half-board, en suite accommodation at the Hospedería de Monfragüe, tapas / picnic lunches, minibus transport throughout, all entry fees and the services of John Muddeman and/or Ricardo Montero as leader/s. A single-room supplement is usually applicable.
The cost is for a land-based tour. Flights and travel insurance (obligatory) are the responsibility of the client, though we can help with bookings. We start and finish at Madrid airport.
All payments have to be made in Euros to Spainbirds Nature Tours S.L.
For booking, please click on the Spainbirds Booking Form, or contact me directly (see my contact details below). The Spainbirds office will then advise you of the payment details and terms.
Booking information: either follow the link above or feel free to contact John Muddeman for further details and a booking form, or indeed if you have any queries about this tour.

E-mail:
Office phone:
(+34) 918 989195
Mobile phone:
(+34) 649 608747
Address:
C/ Alcocer 1, 1-C
28214 Fresnedillas de la Oliva,
Madrid
Spain