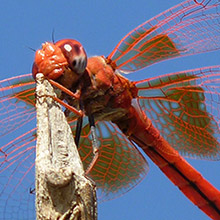 Dragonflies, Birds & Butterflies: Extremadura with a difference!
Renowned for its birdlife, Extremadura is also home to an extraordinary variety of dragonflies and butterflies.
Varying from its hot lowlands to cool montane regions, the richly varied landscapes and habitats in Extremadura are home to around 55 of Spain's dragon- and damselflies and almost half of the country's butterfly species. The trip will concentrate on trying to see some of the more enigmatic species, particularly those mainly lowland dragonflies which just reach Europe from Africa, alongside the regional specialities, and in such a bird-rich area of course we always keep a keen eye open for anything else!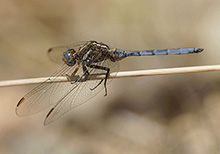 © Santiago Villa
Over the last few decades, changes in climate have been suggested as the main motor behind the colonisation of the Iberian Peninsula of a number of species traditionally considered as 'African'. While notable cases such as Black-shouldered Kite, White-rumped and Little Swifts exist amongst the relatively well-studied birds, only in recent years have obvious changes in the also relatively mobile dragonfly populations been noted. Extremadura, with its mild winters and wide range of aquatic habitats from huge reservoirs on major rivers and vast rice paddy areas to tiny dew ponds on the steppes, supports an excellent variety of those species present in the peninsula, including a high proportion of those species colonising from the south and, additionally, has one of the best-studied odonate faunas in Spain thanks to a dedicated LIFE project undertaken a few years ago.
© Santiago VillaThe variety of species characteristic of either the Iberian Peninsula or SW Europe is correspondingly high, and we will look for the delightful Western and Copper Demoiselles, discrete Migrant Spreadwing, tiny Iberian Bluetail and Dainty Bluet, Blue-eye, both Orange & White Featherlegs with their strange bouncing flights, Lesser Emperor, Western Spectre, the rare Pronged & more widespread Western Clubtails, Large, Small & the rare Faded Pincertails, scarce Green Hooktail, local Orange-spotted Emerald, the rare and enigmatic Splendid Cruiser, Epaulette, Southern & Long Skimmers, the widespread Violet and the recently arrived Orange-winged Dropwings and pretty Northern Banded Groundling as well as the commoner species. Of course, the presence of these will depend on the weather and preceding winter and spring rains -and hence, wetland conditions- but early June sees the most likely period for seeing the great majority of these simultaneously on the wing.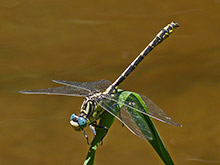 © John Muddeman
The variety of butterflies also peaks around this time, and in hot conditions often concentrating around the valley bottoms and other wetland habitats as well and may include Mallow & Red-underwing Skippers, Scarce Swallowtail, Spanish Festoon, Black-veined, Bath & Western Dappled Whites, Provence Orange-tip, Cleopatra, Spanish Purple & False Ilex Hairstreaks, Spanish Sooty Copper, Long-tailed, Lang's Short-tailed & Black-eyed Blues, Spanish Brown Argus, Nettle-tree Butterfly, Two-tailed Pasha, Southern White Admiral, Cardinal, Queen-of-Spain & Knapweed Fritillaries, Iberian Marbled & Spanish Marbled Whites, Tree & Great Banded Graylings and Spanish & Southern Gatekeepers, again amongst a variety of commoner species.
The birds can be simply outstanding too, if indeed we have time to look up! Spanish Imperial Eagle, Cinereous Vulture, Egyptian Vulture, Black Stork, Great & Little Bustards and White-rumped Swift, are just a few of those that we might encounter while looking for dragonflies, though more information can be found in the page dedicated to a principally birdwatching tour in Extremadura.
Please note that no catching or handling of insects is permitted under Spanish law, and the emphasis is on their observation, and, where possible, their photography. Additionally, it should also be noted that it may be very hot at this time of year, reaching well over 30°C in the shade, and participants need to be prepared for this, especially as little shade exists in some areas.
For a provisional itinerary, please see the Spainbirds page for this tour.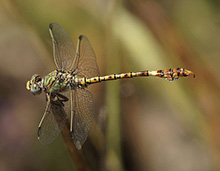 © Santiago Villa
Dragonflies, Birds & Butterflies:
Extremadura with a difference!
Leader: John Muddeman for Spainbirds Nature Tours
2017/18 Dates: Late May – early July
ANYTIME DATES by request. Please enquire.
Price: Depends on duration of tour and group size, but will include half-board, en suite accommodation at one or more hotels (e.g. Hospedería Hurdes Reales, Hospedería de Llerena and the Hospedería de Monfragüe, tapas / picnic lunches, minibus transport throughout, all entry fees and the services of John Muddeman as leader. A single-room supplement may be applicable.
The cost is for a land-based tour. Flights and travel insurance (obligatory) are the responsibility of the client, though we can help with bookings. We start and finish at Madrid airport.
All payments have to be made in Euros to Spainbirds Nature Tours S.L.
For booking, please click on the Spainbirds Booking Form, or contact me directly (see my contact details below). The Spainbirds office will then advise you of the payment details and terms.
Booking information: either follow the link above or feel free to contact John Muddeman for further details and a booking form, or indeed if you have any queries about this tour.

E-mail:
Office phone:
(+34) 918 989195
Mobile phone:
(+34) 649 608747
Address:
C/ Alcocer 1, 1-C
28214 Fresnedillas de la Oliva,
Madrid
Spain