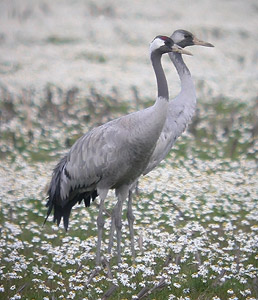 Extremadura : Winter birding bonanza!
Extremadura ranks as one of THE regions to visit for birdwatching in Europe, but most birdwatchers mistakenly only visit in spring! Largely thanks to its relatively mild climate, winter sees huge concentrations of birds here escaping from the rigours of the freezing conditions further north and east.
Around 200,000+ Common Cranes alone are naturally one of the star attractions! However, abundant ducks, geese, raptors, larks, thrushes and finches are also present alongside all the resident birds, including flocks of both bustards, both sandgrouse, vultures and eagles, while Red Kites, Western Marsh and Hen Harriers, and Peregrines and Merlins all increase. A fine range of wintering waders include Black-tailed Godwit and Wood Sandpiper in the rice fields alongside Black-winged Kites, Zitting Cisticolas, Bluethroats, Red Avadavats and huge flocks of Spanish Sparrows. A short break is ideal to look for all these and much more!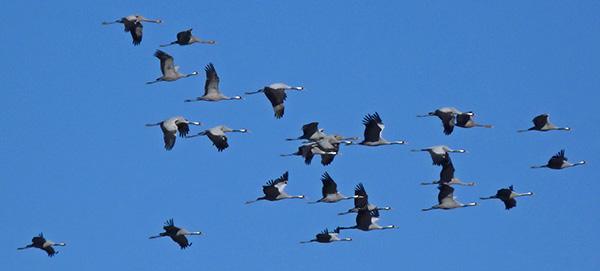 © John Muddeman
Ranking high amongst the top birding areas in Europe, the huge open plains, low rugged mountains, vast tracts of dehesa, narrow serpentine rivers, enormous reservoirs and even the scruffy-looking valley bottoms including huge areas of rice fields which characterise much of N and C Extremadura, hopefully need little introduction to most birdwatchers. But, while most visitors come in spring -given the undeniable allure of often gaudy summer visitors- late autumn and winter sees one of the true birding bonanzas in the region, and indeed in Europe.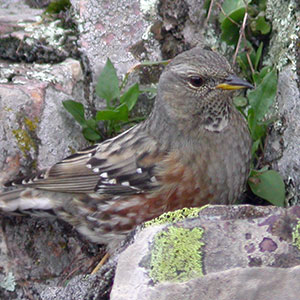 © John Muddeman
The huge extensions of Western Holm Oaks in agricultural wood pasture, the so-called dehesa, produce equally vast numbers of relatively sweet-tasting acorns, and most of W Europe's Common Crane population either knows it or quickly learns it! That said, with the recent booms in rice and maize growing in the area, it appears that thanks to somewhat messy harvesting processes, significant quantities of split grain are rapidly becoming one of their main food sources. Indeed, over 200 thousand of these magnificent birds come down to winter in the region, away from the rigours of the climate in N Europe and we will move around to reach the heart of their feeding areas in order to closely experience at first hand the extraordinary sights and sounds of thousands of these remarkable travellers.
Enormous numbers of other birds also use these fields, including nervous flocks of Spanish Sparrows, and other interesting species such as wintering Bluethroat and Water Pipit and a wide range of waders including Little Stint, Wood Sandpiper, Spotted Redshank and Kentish Plover among commoner species, and amongst others, occasional Pied Avocet and Black-winged Stilt are also present, especially after the new year. Other birds use the rough edges for foraging and these can include the quaint introduced Red Avadavat and Common Waxbill, wintering Dartford Warblers in low cover, or colourful Common Kingfishers along the deeper water courses.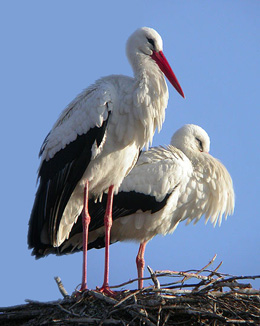 © John MuddemanWith an abundance of small birds and indeed micromammals as well, it is no surprise that the predators are here too in number, including Western Marsh and Hen Harriers, Black-winged Kite and Iberian Grey Shrike. These paddies are also the principal foraging grounds for the huge numbers of wintering wildfowl in the region, with the Sierra Brava Reservoir alone having housed up to 120 thousand wintering duck at peak times, ranking this as the third most important site in Spain after Doņana and the Ebro Delta, but several other lesser known reservoirs attract important numbers of grebes, wildlfowl, herons and egrets too! A growing number of wild geese now overwinter and occasionally pull in rarities too, a few Black Storks and Eurasian Spoonbills wander around these valleys, and drier fringe areas attract wintering groups of Eurasian Stone-curlew.
Deeper water reservoirs can also attract wintering Red-crested Pochard, diving duck and Black-necked Grebe, while a few other wetland sites with permanent reed or reedmace beds in permanently unfrozen water are also highly attractive to a special suite of species, including rare Great and Little Bitterns, Squacco Heron, Great Egret, Purple Swamphen, Eurasian Penduline Tit and a very few Bearded Reedling.
But this is far from all. The open steppes receive impressive numbers of wintering larks, pipits, wagtails and finches, plus Red Kites, Hen Harriers and Merlins, augmenting the number of resident birds of these habitats such as Great and Little Bustards, Black-bellied and Pin-tailed Sandgrouse, Calandra and Crested Larks, Corn Buntings, etc. The resident raptors, including Cinereous and Griffon Vultures and Spanish Imperial and Bonelli's Eagles can also still be seen widely. The woodlands, scrub and small fields receive impressive numbers of Song Thrushes, Common Chaffinches, European Robins and Blackcaps, in addition to a wide range of resident species from Iberian Magpie, European Crested Tit, Firecrest and Short-toed Treecreeper, to Cirl Bunting, Sardinian Warbler and Hawfinch.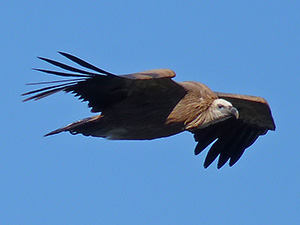 © John Muddeman
And to cap it all, the rock outcrops of the region house yet another bird assemblage, including a few Eurasian Eagle Owl, Red-billed Chough, Eurasian Crag Martin, Thekla Lark, Blue Rock Thrush, Black Redstart, Black Wheatear, Rock Sparrow and Rock Bunting, while winter also sees the arrival of a few Alpine Accentors to the region and just occasionally, the stunning Wallcreeper. Remarkably, a few Alpine and Pallid Swifts have also been found to be lingering into winter at one site, showing that just about anything could turn up!
While birds are the primary objective of the tour, mild November weather should see a few late butterflies still on the wing, and fine conditions from mid-January onwards can even pull out the first Green-striped Whites. European Otters are widespread in the region and regularly active during the day, the also frequently diurnal Egyptian Mongoose is sometimes also seen, though Wild Boar, Red Deer and Red Fox are more commonly observed mammals. Even a few reptiles and amphibians should be about, and the wet ground conditions in winter means that if we can find any suitable pools, Southern Marbled and Bosca's Newts should be active at the start of their breeding season.
Given that the cranes are only present in large number from mid-November until mid-February, a late November tour would guarantee peak numbers and a mid February tour would coincide with the final mass departure date. The latter tour will encounter far fewer wildfowl on the lakes, since these depart rapidly north in the second half of January, but the February trip may well encounter a few early returning migrants, such as Great Spotted Cuckoo and Lesser Kestrel, as well as the possibility of seeing Great Bustards in display! We might also get lucky and encounter the mass migration of Black-tailed Godwit through the rice fields at this time.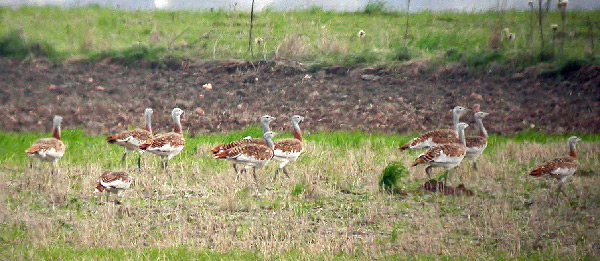 © John Muddeman
Not a rich area for vagrants, partly given its huge size and the relative lack of observers, winter however is a good time to keep the mind open and stay alert. The first Spanish record of Hume's Yellow-browed Warbler was found here one January, and other national and regional rarities such as Red-breasted, Bean and Pink-footed Geese, Ferruginous Duck, White-tailed Eagle, Pallid Harrier, Sandhill Crane, Lesser Yellowlegs and White-winged Tern have all been discovered in recent winters. If the opportunity arises we will look for any rarities as we pass through on our general birdwatching, but while adding spice to the general birdwatching in the area, these records pale into insignificance compared to the sheer wealth, quality and numbers of migrant and wintering species.
For a provisional itinerary, please see the Spainbirds page for this tour.
"…thank you so very much for looking after us so well last week. We truly thoroughly enjoyed ourselves and we know that the break did us both so much good. We didn't really know what to expect from a winter birding holiday and although we knew we would see Cranes there was just so much more and we went from one special sighting to the next. It was lovely to see Storks already on the nest and the views of Bustards and Sandgrouse and the Dotterel were really special. And what do you say about the Spanish Imperial Eagle and the Penduline Tit. All in all it was absolutely lovely and we really enjoyed your company. Anyway many thanks once again for making the trip happen at such short notice and for making it so successful for us."
Angela & Trevor P. January 2014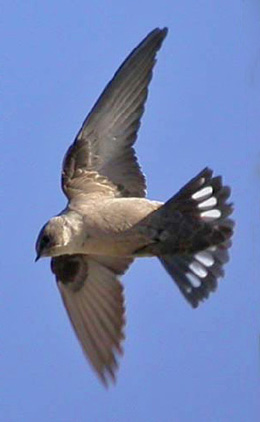 © John Muddeman
Extremadura : Winter birding bonanza!
Leaders: John Muddeman for Spainbirds Nature Tours
2019/20 Dates: late October – mid February
ANYTIME DATES by request. Please enquire.
Price: Please enquire for an obligation free quote. Depending on requirements these usually include half-board, en suite accommodation at the different hotels, tapas / picnic lunches, minibus transport throughout, all entry fees, and the services of John Muddeman as leader. A single-room supplement may be applicable.
The cost is for a land-based tour. Flights and travel insurance (obligatory) are the responsibility of the client, though we can help with bookings. We start and finish at Madrid airport.
All payments have to be made in Euros to Spainbirds Nature Tours S.L.
For booking, please click on the Spainbirds Booking Form, or contact me directly (see my contact details below). The Spainbirds office will then advise you of the payment details and terms.
Booking information: either follow the link above or feel free to contact John Muddeman for further details and a booking form, or indeed if you have any queries about this tour.

E-mail:
Office phone:
(+34) 918 989195
Mobile phone:
(+34) 649 608747
Address:
C/ Alcocer 1, 1-C
28214 Fresnedillas de la Oliva,
Madrid
Spain