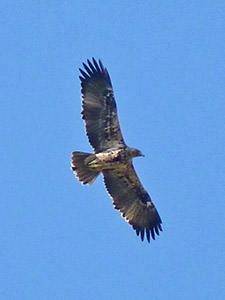 Birding in Madrid & La Mancha: Eagles, Bustards, Cranes and Culture!
The mountains, arable fields and wetlands of Madrid and La Mancha house a rich variety of raptors, open ground birds and wildfowl amongst many other species during autumn and winter.
The migrant and wintering Common Cranes, large flocks of steppic birds including Great and Little Bustards and Pin-tailed and Black-bellied Sandgrouse, plus good numbers of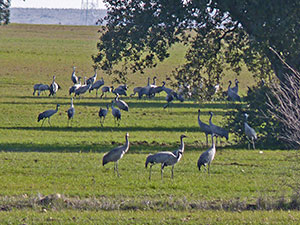 © John Muddemanresident and wintering raptors, including the rare Spanish Imperial Eagle, are the focus of this tour. E.g. this is a unique opportunity to enjoy an unusual and impressive natural phenomenon when large numbers of Little Bustards and Pin-tailed Sandgrouse join to mixed feeding flocks! We also won't forget to explore one of the most unspoilt corners of central Spain, the Cabaņeros National Park. The tour ends with a full day for travellers to enjoy the museums, monuments and culture of Madrid.
Central Spain is widely overlooked as an autumn and winter destination for birdwatchers, but is home to a remarkable selection of resident and wintering species. The range of resident raptors, including the iconic Spanish Imperial Eagle and Eurasia's largest bird of prey, the huge Eurasian Black Vulture, is boosted by increased numbers of wintering Red Kites, Hen and Western Marsh Harriers and Peregrine Falcons, as well as wintering Merlins. In addition to the more numerous Griffon Vultures, young eagles wander these plains, and include Golden and rare Bonelli's Eagles, while the delightful Black-shouldered Kite is often more visible at this time as well.
© John MuddemanThe resident steppic birds, such as Great and Little Bustards, Pin-tailed and Black-bellied Sandgrouse also form wintering groups in the vast open agri-steppe areas. In a handful of locations, these agglomerate into large flocks, sometimes numbering into the hundreds of individuals. Indeed, one of the features of the region is the unique occurrence of large mixed flocks of Little Bustard and Pin-tailed Sandgrouse, which are easiest to find at this time in the winter fallow and stubble fields. Large mixed flocks of Calandra and Eurasian Sky- Larks, plus mobile groups of European Golden Plover further characterise the assemblage of birds, but are by no means the only ones, with Iberian Grey Shrike, Corn Bunting, Crested and Thekla Larks and Rock Sparrows all also being typical birds of these areas.
The short trip up into the high mountains of the Guadarrama range, weather-permitting, takes to us easily accessed sites for the star bird here, Citril Finch, but a good range of passerines is usually present in the scrub and pinewood habitats, including Crested Tit, Common Crossbill and Rock Bunting, amongst others. And with luck, a stop or two en route might turn up one of the local Iberian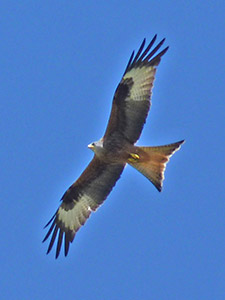 © John Muddemanrace of Green Woodpecker, or perhaps a Cirl Bunting. Lower down, we also visit the edge of one of Madrid's largest parks, El Pardo, where the extensive dehesa (Western Holm Oak-dominated wood pasture), inaccessible to the general public, is home to several pairs of the endangered Spanish Imperial Eagle, plus a wide range of other raptors and birds including Northern Goshawk and Iberian Magpie, and also good numbers of Red and Fallow Deer, plus Wild Boar, amongst other mammals. Seeing any of these always requires a slice of luck of course, but we'll spend time here in order to maximise our chances.
Further south, the plains of La Mancha are studded by a series of natural steppic lakes. These can dry up completely on occasions, though a few of them deliberately receive water from water treatment plants in order to keep them suitable for wetland birds, and we will visit a couple of these as time permits in order to look for mostly aquatic species. The variety can be amazing, but of most note is a population of the rare and declining White-headed Duck. Greater Flamingos and gaudy Red-crested Pochards may be present, and small numbers of White Stork often overwinter, as well as large numbers of ducks and grebes and smaller numbers of a wide range of waders. Indeed, almost anything can turn up here, and we just keep our eyes open as we enjoy the sights and sounds of the region.
We round off our exploration of the area with a visit to the huge Cabaņeros National Park. Whilst widely known in Spain and colloquially referred to as the "Spanish Serengeti" due to the huge open wood pastures which give it a savannah-like look, it remains off the beaten track for most visitors, despite it being one of the best-preserved examples of Mediterranean dehesa and low mountains in Spain. Indeed, the large Red Deer population here, also serving as a food source for the large raptor population (!), are supposed to be genetically the purest in Spain, while good numbers of elegant Common Cranes can be found here on passage and in winter too.
Returning to Madrid for the final two nights allows participants the time they want to look around some of the superb world-renowned art museums, other historic monuments and/or indulge in some of the other cultural and gastronomic highlights of the capital.
For a provisional itinerary, please see the Spainbirds page for this tour.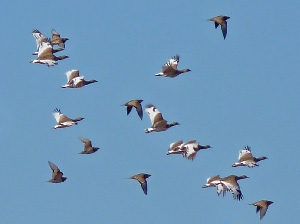 © John Muddeman
Madrid & La Mancha: Eagles, Bustards, Cranes and Culture!
Leaders: John Muddeman for Spainbirds Nature Tours
2019/20 Dates: October – March
ANYTIME DATES by request. Please enquire.
Price: Please enquire for an obligation-free quote. Price per person will include half-board, en suite accommodation at hotels in Madrid and Ciudad Real, tapas / picnic lunches, minibus transport throughout, all entry fees and the services of John Muddeman and/or Santiago Villa as leader/s. A single-room supplement is usually applicable.
The cost is for a land-based tour. Flights and comprehensive travel insurance (obligatory) are the responsibility of the client, though we can help with bookings. We start / finish at Madrid airport.
All payments have to be made in Euros to Spainbirds Nature Tours S.L.
For booking, please click on the Spainbirds Booking Form, or contact me directly (see my contact details below). The Spainbirds office will then advise you of the payment details and terms.
Booking information: contact John Muddeman for further details and a booking form, or indeed if you have any queries about this tour.

E-mail:
Office phone:
(+34) 918 989195
Mobile phone:
(+34) 649 608747
Address:
C/ Alcocer 1, 1-C
28214 Fresnedillas de la Oliva,
Madrid
Spain