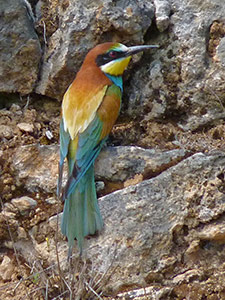 Spain – the Grand Tour!
In simple terms Spain is one of the most biodiverse countries in Europe with an enviable array of wildlife in its astonishingly varied landscapes and habitats. Not surprisingly, its birdlife is correspondingly widely recognised as one of the very best, not just of the entire Mediterranean but in the continent as a whole.
The exceptionally diverse landscapes and habitats of Spain range from the rough mountains and sun-bathed coasts of the far south, with species more akin to Africa than the rest of Europe, to the rugged forest and pasture-clad mountains of the far north, more like those of temperate northern Europe or the high Alps. The variety of birds is correspondingly high, including some of the rarest and most range-restricted species of the continent,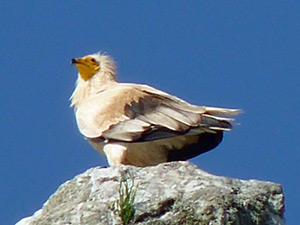 © John Muddeman many of which we search for on this remarkable tour.
To sample as much of this as possible, the trip works its way north and west from near the Strait of Gibraltar, via the Coto Doñana, through Extremadura to a páramo area in C Spain, to finish in the Pyrenees. Highlights will be many and varied, ranging from southern wetland specialities and incoming migrants in the south, throngs of raptors in the low mountains plus still common steppic birds on the inland plains, to the forest, crag and mountain-dwelling species of the Pyrenean spine. Running over one of the peak spring periods for residents, migrants and breeding summer visitors, this tour aims to show as wide a cross-section of the species as possible in just one tour, while concentrating on enjoying as many of the classically 'Spanish' specialities as possible.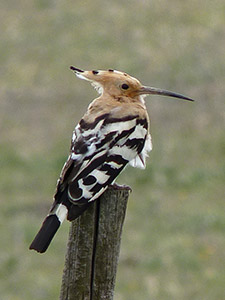 © John Muddeman
A typical sight over the wetlands in S Andalucía is of small groups of Whiskered and Gull-billed Terns flickering back and forth, Eurasian Spoonbills feeding in groups in shallow muddy water, with Great and Little Egrets standing vigil behind, and a tight flock of Glossy Ibis probes among the emergent vegetation where colourful Squacco Herons stand half-hidden, silently waiting for a frog or newt to pass within stabbing distance. A line of quietly honking Greater Flamingos stretches across in front while Great Reed Warblers 'grunch and grind' from the bulrushes below and a Savi's Warbler buzzes in the distance. A small group of 'wickering' Collared Pratincoles pass over in swallow-like feeding flight, then rise and disappear as a Booted Eagle drifts slowly over at height, looking for unsuspecting prey…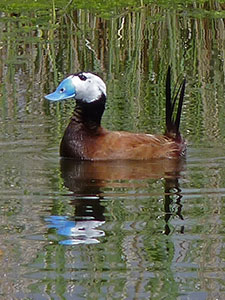 © John MuddemanBut it is also far more than this, and with water levels falling, large numbers of waders can feed along the edges, the now rare Red-knobbed Coot occasionally appears amongst its far commoner cousin, gaudy male White-headed Ducks still pout on a few select pools and bulky Purple Swamphens occasionally wander out of the edges to put in a colourful show. With even greater luck, we might just chance into one of the few Marbled Ducks still breeding in the region, while a look into one of the warm, humid stream valleys here will be made to search for the rather uncommon Iberian Chiffchaff.
The south-western tip of Europe is also fascinating as it has allowed the jump into the Iberian Peninsula of a number of species traditionally considered as 'African', and these are correspondingly still concentrated here. Among these the Black-shouldered Kite & White-rumped Swift have been around for a few decades now, while Little Swift has only much more recently settled to breed and consolidate its position. Other species such as Western Olivaceous Warbler and Rufous-tailed Scrub Robin are also found here in greater numbers than anywhere else in the Europe, and we'll be looking keenly for them too! A day in different habitats of the Coto Doñana National Park looking for a few of these species should certainly form a highly memorable part of the tour.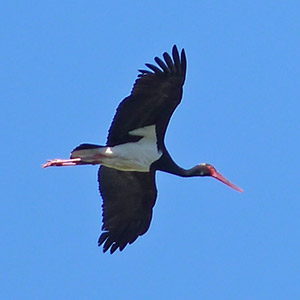 © John Muddeman
Much has been written about Extremadura, with its remarkable assemblages of steppic birds and raptors, in particular, and we'll be looking for the cream of the crop here too. Spanish Imperial and Bonelli's Eagles, Cinereous, Griffon and Egyptian Vultures, Black Stork, Great and Little Bustards, Pin-tailed and Black-bellied Sandgrouse and White-rumped Swift, are just a few of those that we might encounter, but which we'll make special efforts to see. Brilliantly coloured European Bee-eaters and European Rollers are spectacular in their own right too and at this time there's a good chance of seeing the latter performing their colourful display flights. Monfragüe National Park is quite rightly one of the meccas for birders in Western Europe, with an unrivalled variety of raptors, but the small birds aren't lacking either, including six breeding Sylvia warblers, Blue Rock Thrush, Rock Bunting and numerous Red-rumped Swallows amongst many others, and we'll probably be enjoying a full day here!
The colder, higher inland páramo habitats of Spain also support one of its most difficult-to-see species. Indeed, it often seems impossible that in habitat with such sparse vegetation, seeing the elusive Dupont's Lark, or "el diablo" as it's sometimes referred to here, is so difficult! But patience is a virtue, and the sometimes long waits, invariably to first hear the bird's peculiar and ventriloquial song, and then look for them perched on rocks or small bushes is never dull, given that 6 other lark species are also present!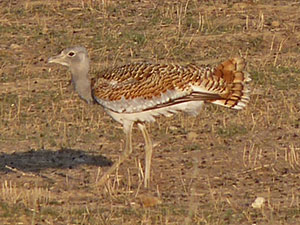 © John MuddemanEurasian Sky-, Wood-, Calandra, Greater Short-toed, Crested and Thekla Larks, plus Woodchat Shrike, Tawny Pipit and Western Black-eared Wheatears are a lovely assemblage in this often barren-looking area. Time permitting we will also look at a nearby area for breeding Spectacled and Western Orphean Warblers, Rufous-tailed Rock Thrush and Ortolan Bunting, while the whole area has good chances for Golden and Short-toed Eagles, Griffon and Egyptian Vultures, Eurasian Crag Martin and Red-billed Chough, amongst others.
Instead of the long transfers to and from the mighty Pyrenees to round off your journey, instead we'll take in two other equally fascinating mountain areas during the tour, giving us double chances for a number of regional specialities, including smart freshly arriving Red-backed Shrikes in the meadows, tinkling Citril Finches in the pine forests, bobbing White-throated Dippers along the streams or nervous Water Pipits in the subalpine grasslands. The lovely Sierra de Gredos visited en route, and flanking N Extremadura, is also renowned for its abundant Ortolan Buntings, gaudy Common Rock Thrushes and flamboyant Bluethroats, as well as having an observation hide incorporated into the hotel! The jagged limestone peaks of the stunning Picos de Europa will form a fitting finale, and are a bastion of one of the star species, the enigmatic Wallcreeper. We'll spend time looking not only for this butterfly-like gem, but also other special and charismatic birds including Alpine Chough and the elusive White-winged Snowfinch, following an extraordinary cable car ride up into the high tops. Scarce Black and Middle Spotted Woodpeckers both inhabit the lower woodlands along with a range of commoner species to round off a truly superb trip.
For a more specific itinerary, please see the Sunbird page for this tour.
"John, your trip summary was spectacular. Because of the amount of detail you included, you must have written it on a daily basis. Thank you for the effort. We have reported about the trip in glowing terms to all who are interested. Thanks again!"
Tom & Karen C. (CA, USA) April/May 2017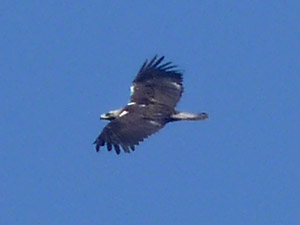 © John Muddeman
Spain - the Grand Tour!
Leader: John Muddeman for Sunbird Tours in collaboration with Spainbirds Nature Tours
2019 Dates:
Sat. 27 Apr – Fri. 10 May

2020 Dates:
Please enquire for details
Price: £2690 (£300 single-room supplement), excluding flights. Please see the Sunbird Tours page for full details including payment.
Booking information: please contact the Sunbird office via the website link above for all enquiries concerning bookings and tour terms and conditions.
E-mail:
Office phone:
(+34) 918 989195
Mobile phone:
(+34) 649 608747
Address:
C/ Alcocer 1, 1-C
28214 Fresnedillas de la Oliva,
Madrid
Spain