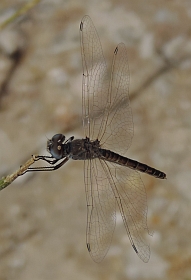 Early Summer in South-west Spain
Cádiz in mid-June boasts a fabulous selection of dragonflies and butterflies, many of which are restricted to the Iberian Peninsula in Europe
Leader:
Teresa Farino, in collaboration with local naturalist Sue Eatock
2017 Dates:
Thursday 8 June – Thursday 15 June
(8 days / 7 nights)
Price:
1,430€ per person (single-room supplement 150€), excluding flights.
Click here for full details
A visit to south-west Spain in mid June offers the travelling naturalist a unique opportunity for wildlife watching and photography, particularly of the 'macro' variety. This two-base tour starts near Benalup at the Cortijo de los Monteros, where we spend three nights, then moves north to the spectacular limestone mountains of the Sierra de Grazalema for the rest of the week, with daily forays to the endorheic lagoons at Espera and Fuente de Piedra also on the agenda.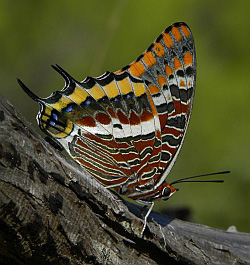 © Teresa Farino
The magnificent Two-tailed Pasha is undoubtedly the showiest of the butterflies on offer, and we should encounter obliging adults in several localities – especially if we take along a ripe banana or two! – along with other 'giants' such as Swallowtail, Scarce Swallowtail, Monarch and Plain Tiger.
Perhaps the most sought-after butterfly of the trip for many, however, will be Zeller's Skipper. Known only from southern Iberia in Europe, this large, fast-flying skipper is something of a 'Holy Grail' for butterfly lovers. Despite its relative scarcity in Spain, over the past few years I have located no less than five separate colonies of Zeller's Skipper in this part of Cádiz, so we'll definitely be in with a good chance of finding this enigmatic butterfly again in 2017. It usually flies together with the superficially rather similar, albeit smaller, Mediterranean Skipper.
Other notable butterflies that we might encounter in the area are Spanish Festoon, Sage and Southern Marbled Skippers, Provence Orange Tip, Lorquin's and Panoptes Blues and Aetherie Fritillary.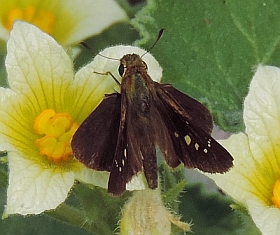 © Teresa Farino Among the more 'commonplace' European species we should keep an eye out for are Bath, Western Dappled and Green-striped Whites, African Grass and Long-tailed Blues, Blue-spot Hairstreak, Spanish Brown Argus, Marsh Fritillary, Spanish Marbled White and Spanish Gatekeeper.
Dragonflies provide the other major focal point of the tour. Given favourable conditions (i.e. waterbodies, streams and rivers with plenty of water), we should locate some of Europe's most enigmatic species, with highlights including Copper Demoiselle, Orange and White Featherlegs, Pronged and Western Clubtails, Orange-spotted Emerald, Long Skimmer, Violet and Orange-winged Dropwings, Northern Banded Groudling, Black Percher and Black Pennant.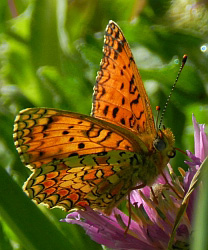 © Teresa Farino
Western Willow Spreadwing, Iberian Bluetail, Dainty Bluet, Small Red-eye, Blue-eye, Lesser Emperor, Western Spectre, Common Goldenring, Large and Small Pincertails, Southern and Epaulet Skimmers and Broad Scarlet are also typical denizens of Cádiz in June, and we might even come across some of the real rarities of the region, such as Dark Spreadwing, Faded Pincertail, Green Hooktail, Splendid Cruiser, Yellow-veined Skimmer, Desert Darter or even Ringed Cascader.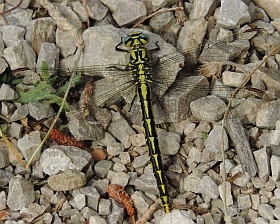 © Teresa Farino
While butterflies and dragonflies provide the main focus of this tour, we will by no means be ignoring the rich flora and other faunal elements of the area, particularly the diverse array of birds, reptiles and amphibians on offer. We shall also be keeping an eye out for some of the other interesting invertebrates that this area is renowned for, such as the fabulous Conehead Mantis, its diminutive Iberian-endemic relative Apteromantis aptera, the Megarian Banded Centipede, Striped Oil-beetles, Tarantula Wolf-spiders and the magnificent Andalusian Funnel-web, Europe's largest – and possibly most threatened – spider!
"We thoroughly enjoyed the wonderful excursion you organised and just wanted to thank you again for the huge effort we know you put in to it all to make it so successful. Grazalema was a perfect centre for us and the surrounding area just superb. My mind is so full of new species and those wonderfully rich assemblages we saw everywhere. Our very warmest thanks to you."
Jane and Maurice C. April 2007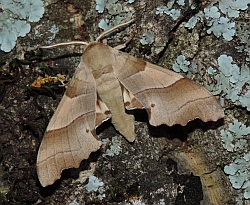 © Teresa Farino
Early Summer in South-west Spain
Leader: Teresa Farino, in collaboration with local naturalist Sue Eatock
2017 Dates: Thursday 8 June – Thursday 15 June
(8 days / 7 nights)
Price: 1,430€, including half-board, en suite accommodation at the comfortable, family-run Cortijo de los Monteros and Casa de las Piedras, picnic lunches, hired minibus transport throughout, all entry fees and the services of the leader. A single-room supplement of 150€ is applicable.
Although the cost of the tour is given in euros, clients may pay in sterling, the exchange rate to be calculated at the time of payment using www.oanda.com
This is a land-based tour. Flights and travel insurance (obligatory) are the responsibility of the client.
Pick-up details: Given that flights to Málaga are very expensive this year, we have decided that the best option is to start from – and return to – Seville, which is also much closer to both our bases. Several airlines fly direct to this destination from a range of UK airports. Ideally we ask that you book a flight that arrives in Seville before 5pm on 8 June, so that we have time for a relaxed journey to the hotel before dinner. And, of course, the later your flight departs on the 15 June, the longer we will have in the field on the last day…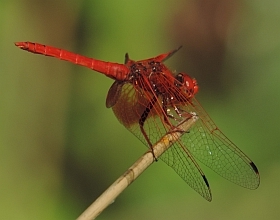 © Teresa Farino
Please contact Teresa to discuss flight times and pick-up arrangements further if you have any queries, as the itinerary is flexible, up to a point.
Alternatively, those wishing to travel to Cádiz independently can arrange to meet the group at the Cortijo de los Monteros on the first evening.
Group size: maximum 8 clients.
Booking information: please contact Teresa Farino for further details and a booking form, or if you have any queries about this tour.

E-mail:
Office phone:
(+34) 942 735154
Mobile phone:
(+34) 656 337129
Address:
Apartado de Correos 59
39570 Potes
Cantabria
Spain