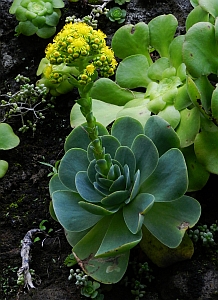 Spring in the Western Canaries
Tenerife and La Gomera offer an exceptional diversity of wildflowers, butterflies, dragonflies, reptiles and birds, many of which are found nowhere else in the world

This is a tour for people who like a little bit of everything, including winter sun! And because the Canary flora and fauna exhibits a high degree of endemism, almost everything we find will be new to UK naturalists.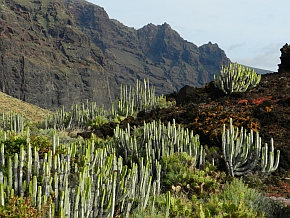 © Teresa FarinoIn March, the coastal 'badlands' of the western Canaries will be in full bloom, dominated by huge candelabra clumps of the cactus-like Cardσn (Euphorbia canariensis) and several leafy species of tree-spurge, interspersed with other drought-tolerant shrubs such as Periploca laevigata, Neochamaelea pulverulenta, Lycium intricatum, the fleshy composite Kleinia neriifolia and the evocatively named 'fountains of wax' in the genus Ceropegia, including C. fusca, with wine-red blooms, and the yellow-flowered C. dichotoma. The coastal cliffs here host a spectacular community of rare, endemic plants, notably the composites Vieraea laevigata, Cheirolophus burchardii and Argyranthemum coronopifolium.
Spring butterflies typical of the coastal zone include Bath White and Canary Blue, with the ubiquitous Red-veined Darter and Blue Emperor among the dragonflies. We should also turn up Tropical Tent-web Spiders and the orb-web spider Argiope trifasciata, plus flamboyant Barbary Spurge Hawkmoth caterpillars and the enormous Desert Locust. Myriad Tenerife Geckos lurk under the rocks, and some of the largest Tenerife Lizards on the island also make their home here. Among the birds we should keep an eye out for Spectacled Warbler, Berthelot's Pipit, Barbary Partridge, and – with luck – Barbary Falcon.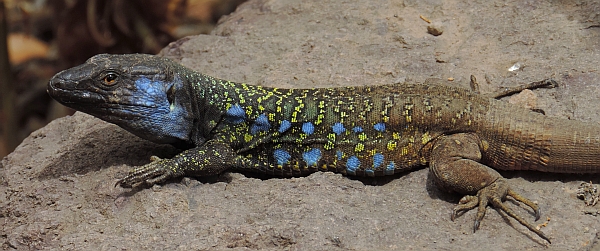 © Teresa Farino
We will also venture into the middle-altitude Canary Pine forests, searching for enigmatic Blue Chaffinches, African Blue Tits (Cyanistes teneriffae) and the western Canary endemic subspecies of Great Spotted Woodpecker (canariensis). Where the pine forests grow on bare lava fields we should encounter the endemic figwort Scrophularia glabrata and the birdsfoot-trefoil Lotus campylocladus, but on older substrata, the understorey is thick with the pink-flowered Cistus symphytifolius, with rocky outcrops hosting the delightful 'tree houseleek' Aeonium spathulatum, with vivid yellow flowers.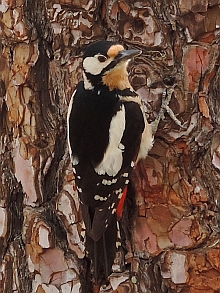 © Teresa Farino
One day on Tenerife will be spent exploring one of Teresa's favourite places on the island: a barranco (gorge) that winds its way up from the coastal badlands into the laurel forest. This relatively unknown locality harbours the best of both habitats, and it's here we're hoping to locate some of the more enigmatic creatures of Tenerife, most of them endemic and many rare and/or endangered. Among the species to watch out for are Canary Islands Large White, Canary Brimstone and Canary Red Admiral among the butterflies, Macaronesian Darter and Epaulet Skimmer among the dragonflies and West Canary Skink among the reptiles. In March 2013, Teresa was lucky enough to encounter the rarely seen – let alone photographed – Tenerife Laurel Bush-cricket here (see image at foot of page); it really is one of the biogeographical 'hot spots' of the island!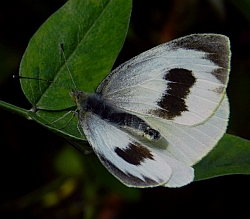 © Teresa Farino
The flora of this narrow gorge is also quite exceptional, including numerous Canary endemic species, many of them rare and even endangered today. Some of the most eye-catching are Canary Islands St John's-wort, the related Hypericum glandulosum, the endangered 'tree-burnet' Marcetella moquinii, the furry-leaved labiate Sideritis cretica, Canary Foxglove, Canary Bellflower, several shrubby Echium spp. and species of Tree Sonchus, the climber Semele androgyna, Dracunculus canariensis, many ferns and a long list of etceteras.
We'll also take time out to explore some of Tenerife's coastal rock-pools, usually inhabited by several species of sea-slugs, crabs, star-fish, sea anemones and colourful inshore fish – there will even be the opportunity to snorkel, if that's your cup of tea! In addition, the waters around the islands are rich in cetaceans, with Short-finned Pilot Whale and Atlantic Spotted and Short-beaked Common Dolphins among the species we are most likely to encounter during the ferry crossing to La Gomera.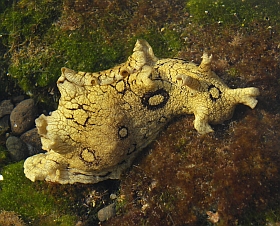 © Teresa Farino
Our visit to the ancient laurel forests – laurisilva – of La Gomera is another of the highlights of the trip. To stand in the cathedral-like gloom of the towering trees, surrounded by ferns taller than you are, is a magical experience, and one that is almost unique in Europe today. Because of the dense shade, ferns make up a large proportion of the ground flora here, including such exceptional species as Woodwardia radicans, Pteris incompleta and Diplazium caudatum on the forest floor, the epiphytic Davallia canariensis winding its way up the trunks of the trees, and Killarney Fern – a European rarity – on the banks of small streams.
Among the notable fauna of the laurisiva, the endemic Bolle's and Laurel Pigeons undoubtedly take pride of place, although we are much more likely to spot these from vantage points overlooking the forest. Within its depths, however, we should keep an eye out for the Canary Islands Chiffchaff, the showy canariensis race of Common Chaffinch and the diminutive Canary Islands Kinglet, formerly considered a full species, but which has recently been demoted to a subspecies (teneriffae) of Goldcrest.
Elsewhere in La Gomera we shall spend time at the spectacular Roque de Agando, with its bird's-eye view over the surrounding laurel forest and rich endemic flora, as well as visiting the small but wildlife-rich botanical garden at Juego de Bolas, home to Boettger's Lizards, the Gomera endemic skink Chalcides coerulopunctatus and gecko Tarentola gomerensis, as well as attracting a good selection of butterflies.
"Muchas gracias por un gran viaje and for sharing your knowledge with us and showing us these wonderful islands. // We have thoroughly enjoyed another holiday with you. Thank you so much for your organisation, hospitality, knowledge, butterflies, etc., etc., etc. Hopefully we'll see you again before long. // Once again a wonderful holiday. Thank you for showing us the amazing flora and fauna and for your driving. // Thank you so much for a wonderful week – super plants, beautiful islands, etc."
Bryson H. & Sandra S. / John S. & Betty A. / Annette F. / Virginia B. March 2013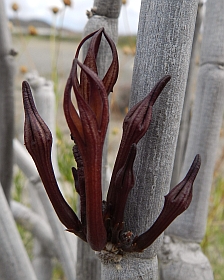 © Teresa Farino
Spring in the Western Canaries
Leader: Teresa Farino
2019 Dates: Mon. 4 March – Mon. 11 March
(8 days/7 nights)
Price: 1,500€ per person, including all ferry crossings, half-board, en suite accommodation at Hotel Rural El Patio (4 nights) and Apartamentos Los Telares (3 nights), picnic lunches, transport by hired minibus throughout, all entry fees and the services of the leader. A single-room supplement of 250€ is applicable. Flights and travel insurance (obligatory) are the responsibility of the client.
Although the cost of the tour is given in euros, clients may pay in sterling, the exchange rate to be calculated at the time of payment using www.oanda.com.
Pick-up details: For this tour, participants will be booking their flights independently. In order to allow clients to travel from a wide range of British airports, we have decided that the best option is to start from, and return to, Tenerife South. Many airlines (easyJet, Ryanair, Aer Lingus, TUI, Norwegian, Thomas Cook, Jet2, etc.) fly to this destination from the UK, which should make your life as easy as possible.
Ideally, we would ask you to book a flight that arrives at Tenerife South before 3pm on Monday 4 March 2019 and a return flight departing after 11am on Monday 11 March 2019.
If you wish to extend your visit in order to explore the islands further, please remember that if you require transport to the hotel in Garachico, you must arrange to be at Tenerife South airport by 3pm on Thursday 15 March. Alternatively, you can go straight to Hotel Rural El Patio and meet us there.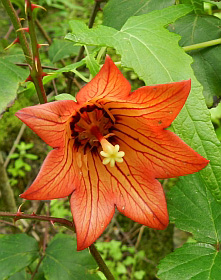 © Teresa FarinoFor the return leg on Monday 11 March, we shall be returning on the ferry from La Gomera first thing and do not arrive in Tenerife until 8am. Please don't book a return flight departing before 11am, otherwise you might miss it!
Please contact Teresa to discuss flight times and pick-up arrangements further if you have any queries, as the itinerary is flexible, up to a point.
Group size: maximum 8 clients.
Booking information: please contact Teresa Farino for further details and a booking form, or if you have any queries about this tour.

E-mail:
Office phone:
(+34) 942 735154
Mobile phone:
(+34) 656 337129
Address:
Apartado de Correos 59
39570 Potes
Cantabria
Spain


"Thank you for arranging such a great tour. It was very enjoyable and you and Jeff were such good and patient leaders; I hope to come with you again. // I really didn't expect such varied environments, from the elegant 19th century botanic garden to jagged lava flows and laurel forest - but the liveliness of the group and the knowledge of the leaders made for a really memorable, enjoyable trip. And warm sunshine in March was a treat too! // Many thanks for an excellent time in Tenerife and La Gomera and for sharing your great knowledge of the islands. I thought it a really good idea to have those interludes in the botanic gardens to give us time to appreciate some of the endemics in 'captivity'."
Irene R. / Anne F. / Jane C.; March 2015