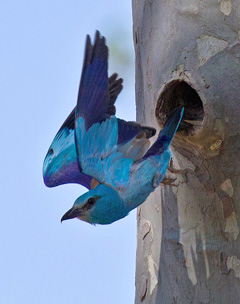 Nature week in the L'Empordà
Birdwatching – and much more – at peak migration time
L'Empordà is a wonderful natural showroom of all that's best in Catalan Mediterranean natural history. From the coastal marshes of Els Aiguamolls to the scrubby hillsides and forests of Cap de Creus and L'Albera, this area boasts a vast range of natural and semi-natural habitats that host one of the greatest variety of vertebrate fauna in the whole of Europe. At the end of April, the coastal marshes throb with life as breeding birds come into song and passage migrants head north, just as the inland scrub and its flowers and butterflies is springing to colourful life as summer approaches. It is also blessed for four natural parks, of which we will visit three during this week's nature ramblings.
The mountains of L'Albera straddle the border between the French and Spanish states and from the main ridge (1,257 m), just 11 km from the sea, thick beech woods tumble down to blend with the cork-oaks and then merge into the colourful, aromatic Mediterranean scrub.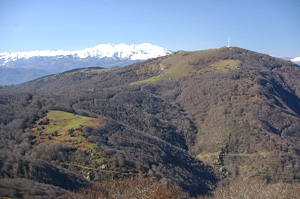 © Mike LockwoodIn its piedmont, mixed in with the olive groves and vineyards, there are a series of lagoons and temporary wetlands that add extra variety to the area's habitats. Its birdlife is a cornucopia of Mediterranean species: Bonelli's and Booted Eagles, Lesser Kestrel, Montagu's Harrier, Stone Curlew, Red-rumped Swallow, Bee-eater, Hoopoe, Roller, Woodchat Shrike, Tawny Pipit, Rufous-tailed Rock Thrush, and Melodious, Sardinian, Orphean and Subalpine Warblers, while up in the thick forests Bonelli's Warbler Marsh Tit, Short-toed Treecreeper and Firecrest are some of the commoner species.
Here, the scrub come into riotous flower in later April: purple French lavender Lavandula stoechas, yellow thorny broom Calycotome spinosa, pink grey-leaved rock-rose Cistus albidus and white sage-leaved rock-rose C. salviifolius compete in a gaudy show that is one of the Empordà's great treasures. In and amongst the scrub, it's always a challenge to search for the small conical orchid Orchis conica, the rare Provence orchid O. provincialis and the strange yellow-red Cytinus hypocistis, a flower that parasites the roots of the rock-roses. Here too we find Catalonia's greatest diversity of reptiles and amphibians, from the large ocellated lizard and the Moorish gecko, to the marbled newt and the diminutive stripeless tree-frog.
The vast coastal marshes of L'Aiguamolls de l'Empordà are a haven for migrating birds in spring as they head north to their breeding grounds. Add to this, the highly varied community of local breeding birds and you have one of the best birdwatching spots in the western Mediterranean. Typical migrants include Spoonbill, many raptors, waders galore, Whiskered Tern, and a wide range of passerines. If there is a fall of migrants as in 2013, when dozens of Collared Flycatchers and Pallid Harriers, with a supporting cast of Red-footed Falcon, White-winged Black Terns and Red-throated Pipit, all appeared, then, as the old maxim goes, 'anything can turn up'! Breeding birds include Grey and Squacco Herons, Little and Great Bitterns, Thekla Lark, Roller, and Great Reed and Melodious Warblers. The flora is also diverse, with sawfly orchid and blue iris, and swallowtail butterflies and the large and attractive green lizard are all common in and around the marshes.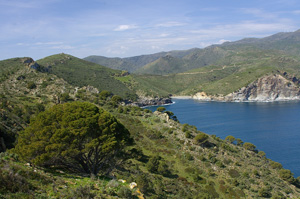 © Mike Lockwood
The third and final main area of L'Empordà that we will visit is Cap de Creus, another protected area, and the final flourish of the Pyrenees as they reach the Mediterranean. Geologists from all over the world come to study the strata and outcrops that inspired some of Salvador Dalí's most famous works. Spiny cushions of Astragalus massilensis decorate the rocks, while the rocky outcrops here are excellent for reptiles such as Mediterranean pond terrapin, Montpellier snake, Spanish psammodromous. If winter has been generous with its rain, amphibians such as fire salamander, natterjack toad and painted frog will be common, along with swallowtails and dappled white butterflies, and the common winter damselfly Sympecma fusca.
Birdwatchers will revel in the abundance of birds, both breeders and migrants: Bonelli's and Short-toed Eagles, Pallid and Alpine Swifts, Red-rumped Swallow, Crag Martin, Blue Rock Thrush, Black-eared Wheatear, Tawny Pipit, Sardinian, Dartford and Spectacled Warblers, Rock and Cirl Buntings, as well as plenty of passage migrants onshore and offshore, above all if the weather is a bit changeable.
Our base is in Hostal Casa Clara in the medieval town of Castelló d'Empúries, which lies in the heart of the Aiguamolls and whose large 'cathedral' is home to nesting White Storks. From here we will make our daily excursions through the region, which also offers many other non-natural delights that include numerous bodegas and vineyards, the wonderful Romanesque monasteries of St Pere de Rode and St Quirze de Colera, and Salvador Dalí's house in Cadaqués and his museum in Figueres.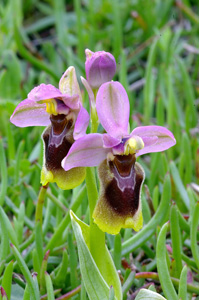 © Mike Lockwood
Nature week in the L'Empordà
Leader: Mike Lockwood
2017 Dates: 8 – 12 May (incl.)
TERMS & CONDITIONS
This is not an organized wildlife group holiday in the traditional sense but a more relaxed way of enjoying the region's wildlife at a leisurely pace on the days you choose. Thus, you are free to join the groups on however many – or few days – you wish.
Minimum group size 2; maximum 12. This means that a booking for two is a guarantee that the day-out will go ahead.
Prices
Guiding only: 50€ per day per person.
Accommodation: Please contact Hotel Casa Clara.
Excursions begin at 09.00 at Casa Clara (Castelló d'Empúries) and finish more or less at 18.00.
Please book in advance, via either Casa Clara or Mike Lockwood. You will receive personal confirmation. Payment can be made on the day.
All transport (we will attempt to rationalize the use of vehicles) and food and drink are the responsibility of the clients.
The day's activities will not include any long-distance hiking, but obviously some walking will be involved to get the best out of the sites we will visit. We aim to maximize time spent in the field and minimize travelling time.
Please make sure you dress accordingly – stout shoes, sun-hats, sun cream and long trousers for walking through scrub – and that you bring plenty of water with you.
We retain the right to alter the calendar in case of adverse weather or any other unforeseen circumstance.
BOOKINGS
Hostal Casa Clara:
972 25 02 15
Mike Lockwood:
972 590327 / 661 956 939