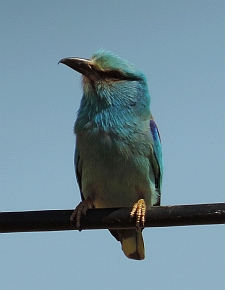 Springtime in Extremadura
A profusion of birds, reptiles and amphibians, all manner of invertebrates and colourful wildflowers in the environs of the Monfragüe National Park and the Llanos de Cáceres

A visit to Extremadura in the spring surely has to rate as one of Europe's finest all-round wildlife experiences. Both the Monfragüe National Park and the Llanos de Cáceres have long been renowned as prime destinations for birdwatchers, but what many people don't know is that the array of less 'popular' creatures – reptiles and amphibians, butterflies, dragonflies, etc. – on offer is also outstanding, with a flora to match.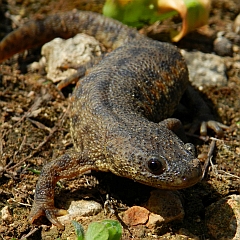 © Teresa Farino
The Monfragüe National Park comprises a mosaic of primeval Mediterranean forest and dehesa (traditional wood–pasture), traversed by rivers and long quartzite ridges, providing a wide range of habitats for all manner of wildlife. Although drought-tolerant trees and shrubs predominate in the forest, the dehesa grasslands and maquis put on a breathtaking display of French lavender, white- and pink-flowered Cistus species, yellow rockroses and blue lupins at this time of year. Rocky outcrops are home to a unique regional endemic flora, and we can also expect to encounter a range of spring monocots during the week, including Spring Snowflake, Wild Tulip, Dipcadi and several species of asphodel, squill, star-of-Bethlehem and gladiolus, plus charismatic Common Tongue and Bug Orchids and a number of insect-imitating Ophrys species.
Outstanding among the avian fauna of Monfragüe and the surrounding area are the twenty-odd species of raptor that breed here, perhaps the most coveted being Black Vulture and Spanish Imperial and Bonelli's Eagles. Also notable are the 30+ pairs of Black Storks that nest along the margins of the reservoirs and the high densities of Blue Rock Thrush that share these rocky ramparts, while the mosaic of dehesa and grasslands harbours a colourful assemblage of Woodchat and Southern Grey Shrikes, Great Spotted Cuckoo, Hoopoe, Black-eared Wheatear, Bee-eater, Iberian Azure-winged Magpie and Golden Oriole as well as less eye-catching species such as Scops Owl, Red-necked Nightjar, Orphean, Sardinian, Spectacled and Subalpine Warblers.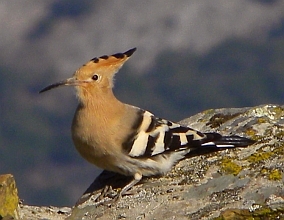 © Teresa Farino
Other excursions take in the plains around Cáceres and Trujillo, where a completely different range of birds awaits us, the highlights being Great and Little Bustards, Montagu's Harrier, Lesser Kestrel, Black-bellied and Pin-tailed Sandgrouse, Stone Curlew and Roller, as well as half a dozen species of lark.
Perhaps the most commonly encountered reptile of northern Extremadura is the Moorish Gecko, to which we hope to add Iberian Three-toed and Bedriaga's Skinks, Ocellated, Spiny-footed and Guadarrama Wall Lizards, Large and Western Psammodromuses and the curious Iberian Worm Lizard, or Amphisbaenian. We will also be keeping an eye out for Horseshoe Whip, Southern Smooth, Ladder, Iberian False Smooth and Western Montpelier Snakes, as well as for Lataste's Viper. The more remote forests harbour healthy populations of Wild Boar, Wildcat, Common Genet, Beech Marten and Garden Dormouse, while Otters thrive along the margins of the multiple rivers feeding the dams and Red Deer can sometimes be seen in the more open dehesa.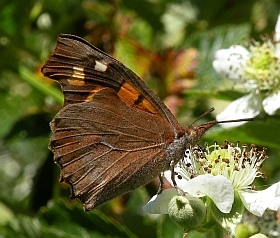 © Teresa Farino
Although butterflies are not the focal point of this trip, some real gems can be found in northern Extremadura at this time of year, including Spanish Festoon, both Swallowtail and Scarce Swallowtail, Green-striped White, Cleopatra, Provence Orange-tip, Provence, Chapman's Green and Spanish Purple Hairstreaks, Lang's Short-tailed Blue, Marsh Fritillary, Nettle-tree Butterfly and Spanish Marbled White, as well as the possibility of first-brood Two-tailed Pashas.
We will also be exploring some of the freshwater habitats of this part of Extremadura – rivers, streams, small lagoons and the occasional reservoir – where we are hoping to encounter some of the fabulous assortment of amphibians that live here: both Stripeless and Iberian Tree Frogs, West Iberian Painted Frogs, Iberian Midwife, Western Spadefoot, Natterjack and Spiny Toads, and Bosca's, Southern Marbled and Sharp-ribbed Newts. These wetlands are also home to Spanish and European Pond Terrapins and Iberian Grass and Viperine Snakes, as well as a good range of dragonflies, including Migrant and Western Willow Spreadwings, Small and Iberian Bluetails, Dainty Bluet, Small Red-eye, Blue-eye, Western Clubtail, Long and Epaulet Skimmers, Broad Scarlet, Violet Dropwing and Northern Banded Groundling.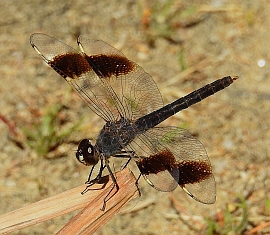 © Teresa Farino
Springtime in Extremadura
Leaders: Teresa Farino & Jeff Clarke
2018 Dates: Mon. 30 April — Mon. 7 May
(8 days / 7 nights)
Price: 1,450€ per person, including half-board, en suite accommodation at Casa Rural Las Canteras, picnic lunches, transport by hired minibus throughout, all entry fees and the services of the leader. A single-room supplement of 160€ is applicable. Flights and travel insurance (obligatory) are the responsibility of the client.
Although the cost of the tour is given in euros, clients may pay in sterling, the exchange rate to be calculated at the time of payment using www.oanda.com.
Pick-up details: For this tour, participants will be booking their flights independently. There is really only one choice of airport for tours in Extremadura, which is Madrid. Several airlines (easyJet, Ryanair, Jet2, Norwegian, Flybe, British Airways, Iberia, etc.) fly to this destination from the UK, which should make your life as easy as possible.
Ideally we will be collecting clients from Madrid airport at 15.00 at the latest on Tuesday 1 May in order to give us time for a leisurely drive to Extremadura before dinner. All that we ask is that you select a flight that arrives before this time, otherwise you might have to arrange your own transfer to the hotel. On Tuesday 8 May, we will not be able to get back to Madrid airport before 14.00, so please make sure that your selected flight does not depart before 16.00.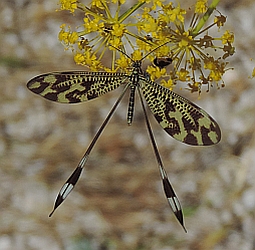 © Teresa Farino
Please contact Teresa or Jeff to discuss flight times and pick-up arrangements further if you have any queries, as the itinerary is flexible, up to a point.
If you wish to extend your visit in order to explore Spain further, please remember that if you require transport to the hotel you must arrange to be at Madrid airport by 15.00 on Tuesday 1 May. Alternatively, you can go straight to Casa Rural Las Canteras and meet us there.
Group size: maximum 14 clients.
Booking information: please contact Teresa Farino for further details and a booking form, or if you have any queries about this tour.

E-mail:
Office phone:
(+34) 942 735154
Mobile phone:
(+34) 656 337129
Address:
Apartado de Correos 59
39570 Potes
Cantabria
Spain