Fauna of the Serra da Arrábida
The Arrábida's essentially natural vegetation supports a wide variety of animal life; 213 vertebrates have been recorded in this Portuguese natural park, as well as 300 species of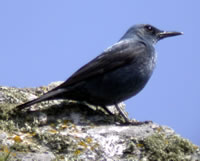 Blue Rock Thrush
Monticola solitarius © John Muddeman Lepidoptera, including swallowtail, Spanish Swallowtail, Spanish festoon, marsh fritillary and Lorquin's blue. The thick Mediterranean scrub finds favour with Sardinian and Dartford warblers, as well as harbouring numerous reptiles, notably spiny-footed lizard, large psammodromus and the Iberian endemic Bedriaga's skink, plus ladder, Montpellier and horseshoe whip snakes. Rather more surprising is the presence of amphibians such as west Iberian painted frog and western spadefoot in this habitat.
The forest formations - both the Lusitanian oak groves and the montados (wood-pastures) of cork and western holm oaks in the peripheral areas of the park - support breeding sparrowhawk, cuckoo, tawny and little owls, bee-eater, hoopoe, wryneck, short-toed treecreeper, woodchat shrike and hawfinch, the latter especially associated with stands of Montpellier maple. Rabbits are joined by Iberian hares here, while mammalian predators include western polecat, weasel, beech marten,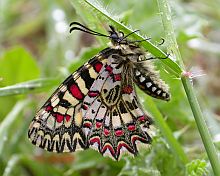 Spanish Festoon Zerynthia rumina © Teresa Farino Eurasian badger, common genet and Egyptian mongoose. More open areas among the montados provide suitable habitat for Iberian wall and ocellated lizards, Spanish psammodromus and three-toed skink.
Perhaps the most noteworthy birds of the Arrábida are those which nest on the sheer limestone cliffs, including a lone pair of Bonelli's eagles, as well as peregrine, rock dove, alpine and pallid swifts (the latter in large colonies), black redstart and blue rock thrush. The honeycomb nature of the limestone here has given rise to a number of natural caves, utilised by large breeding colonies of Schreiber's bats (up to 10,000 individuals) and by smaller numbers of hibernating Mehely's horseshoe bats. Greater mouse-eared, greater and Mediterranean horseshoe and European free-tailed bats have also been recorded in the park.