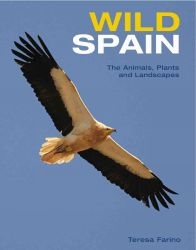 Wild Spain
published by New Holland Publishers Ltd in April 2009
ISBN 978-1847731265
Buy this book from Amazon.co.uk
"Spain is one of the richest countries in Europe in terms of flora and fauna - its mammals include wolves, bears and the endemic Iberian Lynx, it has the highest number of breeding bird species in Europe, some of the best butterfly sites and an outstanding array of wildflowers. The range of habitats is vast, from the snow-capped mountain peaks of the Pyrenees through evergreen forests, olive groves and wood-pasture to freshwater wetlands and the arid semi-desert of the south. Few other European countries can rival its appeal to those interested in wildlife and the environment.
Wild Spain celebrates the landscapes and natural history of this surprisingly diverse country, including the Canaries and Balearic Islands. Expert naturalist Teresa Farino examines the geography and climate, the range of habitat types and the remarkable variety of wildlife, including the many endemic species and impressive list of rarities for which Spain is a last refuge. More than 230 superb colour photographs bring alive their dramatic world.
The past 20 years have seen a revolution in Spain in terms of wildlife conservation and environmental awareness, and the final section of the book looks at the country's protected areas, the development of green tourism and where to watch wildlife."
Hardback; 176 pages, with more than 230 colour photographs and 4 colour maps.
Contents
Introduction
The Habitats and Vegetation of Spain

Mountains
The Atlantic Domain
The Mediterranean Realm
Arid Lands and Pseudosteppes
Continental Wetlands
Where the Land meets the Sea
Island Outposts: The Canaries

The Wildlife of Spain

Flora
Invertebrates
Amphibians
Reptiles
Birds
Mammals

Nature Conservation in Spain
Top Wildlife-watching Locations
Glossary
Further Reading
Useful Contacts
Index
Acknowledgements
Independent Reviews
Related information…
Travellers' Nature Guides: Spain
Sunflower Landscapes: Picos de Europa
Wildlife books main menu