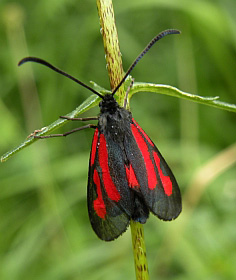 Butterflies and Moths of the southern valleys of the Picos de Europa
Two bases in stunning mountain landscapes, for 100+ butterflies and several hundred macromoths
Mid July is an extremely rewarding time of year to visit northern Spain for butterflies and moths, coinciding with the peak flight period for many of the more emblematic species of both the Picos de Europa mountains and the limestone plateaux further south.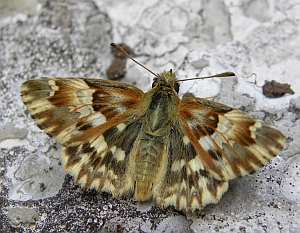 © Teresa Farino
During the first part of the tour (5 nights) we will explore the forests, haymeadows and high peaks of the valley of Liébana - situated on the southeastern flank of the Picos de Europa - from El Hoyal, a friendly family-run hotel in Pesaguero. At this time of year we can expect to see up to 50 species of butterflies per day (of a total of 154 recorded in the area), including such memorable creatures as Large Chequered and Marbled Skippers, Apollo, Mountain Clouded Yellow, High Brown, Niobe and Marsh Fritillaries, Lefèbvre's and Chapman's Ringlets (the latter endemic to northern Spain), Woodland Brown, Esper's Marbled White, Scarce, Sooty and Purple-edged Coppers, Spanish Purple Hairstreak and Gavarnie, Large and Dusky Large Blues, amongst a host of others.
Our second base is located in the little-known enclave of Valdeón, where we shall be staying at the Hostal Corona, located on the outskirts of the capital of the valley - Posada de Valdeón - at an altitude of more than 900m. This is an ideal location from which to explore the surrounding mosaic of meadows, deciduous woodlands and limestone outcrops, including the world-renowned Cares Gorge. Notable butterflies of Valdeón at this time of year include Provence Orange Tip, Wood White, Shepherd's, Lesser Marbled and Bog Fritillaries, Mountain and Large Ringlets, Geranium Argus, Blue-spot Hairstreak, Mazarine and Turquoise Blues, and, of course, Apollo.
From both bases we shall make forays southwards into the limestone plateaux of northern Castile, where we should be able to observe a good number of butterflies that are not found in the Picos de Europa proper, such as Spanish Chalk-hill, Ripart's Anomalous, Forster's Furry, Damon, Panoptes and Meleager's Blues, Twin-spot Fritillary, Striped Grayling and Black Satyr, as well as an abundance of species that - although they occur in the Picos - are rather scarce here, such as Safflower Skipper, Southern White Admiral, Cardinal, Niobe Fritillary, Spanish Gatekeeper, Spanish Heath and Sloe Hairstreak.
© Teresa FarinoIn both localities, day-flying moths will also be recorded, and might include such delights as Hornet and Fiery Clearwings, Black-veined Moth, Rose-banded Wave, Narrow-bordered and Broad-bordered Bee Hawkmoths, Dew Moth, Scarlet, Wood and Jersey Tigers and Feathered Footman, as well as a host of eye-catching Zygaena species, notably White-collared (Broom), Royal (Occidental), Discrete, Woodland, Chalk, Merry, Algarve, Slender Scotch and Mediterranean Burnets, plus Cistus Forester and Hedge Burnet.
For the first five nights we will set the moth-trap on the terrace of Teresa's home (just opposite El Hoyal), and will spend an hour or so before breakfast examining the contents. Given suitable weather conditions, the trap attracts phenomenal numbers of moths, and every year we discover species not previously recorded in the Picos de Europa. To date Teresa has recorded more than 750 species of macromoth here, and at this time of year we should encounter a number of British rarities - Goat Moth, Lesser Puss Moth, Portland Ribbon Wave, Sussex Emerald, The Mocha, Four-spotted Footman, Heart Moth and L-album Wainscot - as well as some that occur in the United Kingdom solely as migrants; for example, Three-humped Prominent, Oak Yellow Underwing, The Passenger, The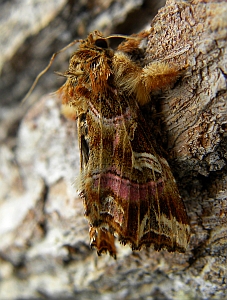 © Teresa FarinoLatin, The Alchymist and Dewick's Plusia. We might also add to our list several species of hawkmoth, including Southern Pine, Eyed and Striped, and a number of striking non-British species, such as Plum Lappet (Odonestis pruni: Lasiocampidae), Gypsy Rose (Ocneria rubea: Lymantriidae) and the arctiids Glaucous Muslin (Paidia rica) and The Tiger (Atlantarctia tigrina).
During the latter part of the tour we will set the trap(s) at Hostal Corona. As this is the first time we have done any serious trapping here at this time of year, we are hoping for some interesting finds.
For the duration of the tour, you will be covered by Teresa's permits both to catch butterflies and trap moths (a legal requirement for Spain). All the lepidoptera records we collect will be submitted to the Cantabrian and Castilla y León regional governments and the Picos de Europa national park authorities, forming part of a project initiated by Teresa in 1989.
In searching for butterflies and moths we will, of course, not be ignoring the many other delights of the Picos de Europa and Páramos of Northern Castile, including the spectacular scenery, colourful wildflowers and birds and dragonflies galore, plus the occasional reptile, amphibian or mammal.
"Once again just to say how impressed we were with your organisation, driving and catering skills. We wanted for nothing more. All in all it was a very enjoyable holiday, just right for us."
John S. & Betty A. July 2012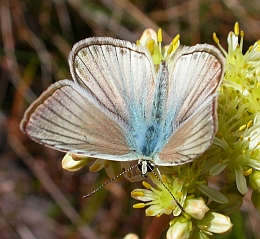 © Teresa Farino
Butterflies and Moths of the southern valleys of the Picos de Europa
Leader: Teresa Farino
2014 Dates: Thurs. 3 July - Sat. 12 July
Price: 1,560€, including half-board, en suite accommodation at Posada El Hoyal and Hostal Corona, picnic lunches, minibus/4WD transport throughout, all entry fees and the services of Teresa Farino as leader. A single-room supplement of 175€ is applicable.
Although the cost of the tour is given in euros, clients may pay in sterling, the exchange rate to be calculated at the time of payment using www.oanda.com
This is a land-based tour. Flights and travel insurance (obligatory) are the responsibility of the client.
Pick-up details: Teresa will be meeting the easyJet flight from London Stansted to Asturias (Oviedo), which is the closest airport to both our bases, and will also give us the opportunity to visit a coastal habitat at the end of the tour. Details are as follows:
| | | | |
| --- | --- | --- | --- |
| 3 July | EZY3083 | Departs London Stansted at 11.30 | Arrives Asturias at 14.25 |
| 12 July | EZY3084 | Departs Asturias at 16.10 | Arrives London Stansted at 17.00 |
Alternatively, those travelling to the Picos independently can arrange to meet the group at
El Hoyal
on the first evening.
Group size: maximum 8 clients.
Booking information: please contact Teresa Farino for further details and a booking form, or if you have any queries about these tours.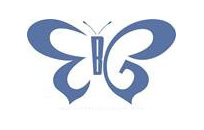 E-mail:
Office phone:
(+34) 942 735154
Mobile phone:
(+34) 656 337129
Address:
Apartado de Correos 59
39570 Potes
Cantabria
Spain