Wildlife walks in the Picos de Europa, northern Spain
Daily natural history excursions in search of birds, butterflies, wildflowers, etc.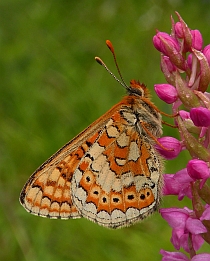 Join Teresa Farino - a British naturalist who has been living in the Picos de Europa since 1986 - to explore the natural wonders of these mountains for a day. Teresa is the author of the popular Sunflower guide Landscapes of the Picos de Europa, OUP's Travellers' Nature Guide: Spain and the lavishly illustrated Wild Spain, published in 2009 by New Holland Press.
The Picos de Europa National Park and surrounding area is home to more than 1,500 species of vascular plant (including around 50 orchids), over 70 mammals, 176 species of bird (120 of which breed), 15 amphibians, 19 reptiles and an incredible 154 different species of butterfly; truly a naturalist's paradise! Whether your main interest is birdwatching or botany, entomology or photography, or even just strolling through spectacular landscapes and picturesque villages, Teresa can help you to get the most from your stay in the Picos de Europa.
Here are a few ideas:
or tell Teresa what you want to see, and she'll arrange a special itinerary.
"We had an absolutely fantastic holiday in the Picos and our trip with you was a highlight. The scenery alone was spectacular enough but the insight and expertise that you shared with us made the experience very special. Your knowledge and love for your subject(s) was obvious…. We certainly hope to return to the Picos very soon."
Martin & Tracy R. September 2013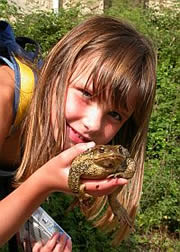 © Teresa Farino
Wildlife walks in the Picos de Europa,
northern Spain
Leader: Teresa Farino
Price: the cost of a day's excursion, which hasn't increased since 2013, is as follows:
one person: 140€
each additional person a further 40€, up to a maximum of 260€
children under 12 free of charge
maximum 8 clients per group
cable-car fees are not included
Although the cost of the tour is given in euros, clients may pay in sterling, the exchange rate to be calculated at the time of payment using www.oanda.com. No deposit is necessary and payment can be made on the day.
Meeting point: for each day's excursion, we will meet at the start of the selected route at around 9.30, and will return to this point at the end of the day by approximately 18.00.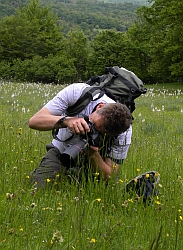 © Teresa Farino
Level of difficulty: all excursions are well within the capability of any reasonably fit person. Although the length of the various excursions varies, in most cases we will not be walking more than about 5 km during the course of the day, at a leisurely pace, allowing ample time for observation, identification and photography. Children are welcome.
Lunches: packed lunches can be provided at a cost of 9€ per person.
Booking information: please contact Teresa for further information, or if you have any queries about these wildlife excursions.
E-mail:
Office phone:
+34 942 735154
Mobile phone:
+34 656 337129
Address:
Apartado de Correos 59
39570 Potes
Cantabria
Spain


Flora & Fauna of the Picos de Europa
Over the past 30 years, Teresa Farino has compiled a report (more than 100 A4 pages) that includes lists of all the mammals, birds, reptiles, amphibians, butterflies, dragonflies, beetles, grasshoppers & crickets, spiders and vascular plants ever recorded the Picos de Europa, plus an eight-page introduction to the natural history of these mountains. If you would like to purchase a PDF copy, the price is 12 € (or the sterling equivalent). Please contact Teresa for further details or to place your order.