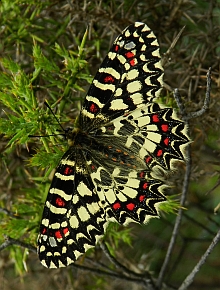 Spanish Festoon Special
An early-spring tour at the foot of the snow-capped Picos de Europa, designed to coincide with the peak flight period of our Spanish Festoons
Although the Spanish Festoon is not an uncommon butterfly in Spain, its presence in the Liébana valley is something of an enigma, being one of only a handful of populations on the northern side of the Cordillera Cantábrica and lying at least 50km as the crow flies from any other colonies that we know of.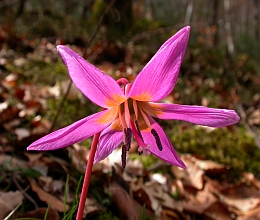 © Teresa Farino And although festoons generally turn up in more southerly localities such as Grazalema or Extremadura at the end of April, here the adults are on the wing every year by the end of March. The larval host plant of the Spanish Festoon in the Picos de Europa is the rather scarce birthwort Aristolochia paucinervis.
This is a lovely time of year in the southern Picos, with verdant meadows just coming into bloom against a backdrop of snow-covered peaks. The first orchids – Giant, Early Purple and Green-winged – dot the sward, accompanied by Hoop-petticoat Daffodils and Tassel-hyacinths, while low-level limestone rock-gardens are coloured by Fairy Foxglove, Malling Toadflax, Leafless-stemmed Globularia and Large-flowered Butterwort. The Pyrenean Oak and Beech forests are just coming into leaf, above a colourful ground flora of Hollow-root, Green Hellebore, Tuberous Comfrey, Narrow-leaved Lungwort, Purple Toothwort, Pyrenean Squill and Dog's-tooth Violets.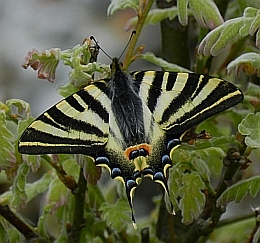 © Teresa Farino
Sunny days tempt out the first butterflies of the season, and we can expect to encounter Swallowtail and Scarce Swallowtail, Mallow Skipper, Cleopatra, Wood and Western Dappled Whites, Provence Orange Tip, Black-eyed Blue, Sooty Copper, Queen of Spain and Weaver's Fritillaries and de Prunner's Ringlet, as well as gems such as Large Tortoiseshell and Camberwell Beauty, just emerging from hibernation and so in fairly pristine condition.
Although most of the migrant birds that head to the Picos to breed will not have arrived by the beginning of April, hundreds of resident Griffon Vultures provide plenty of entertainment, with forest raptors such as Sparrowhawk, Goshawk and Buzzard also much in evidence at this time of year. Several pairs of Golden Eagles breed here, while sightings of Lammergeiers are ever more frequent due to a reintroduction programme that's been in operation for the past few years. Other resident birds of note include Black, Iberian and Middle Spotted Woodpeckers, Crag Martin, Dipper, Firecrest, Crested Tit, Short-toed Treecreeper, Chough and Rock and Cirl Buntings.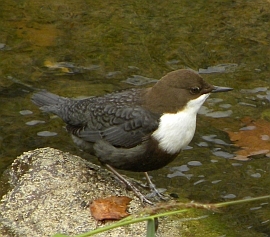 © Teresa Farino
An additional element to this tour is the chance to put the moth trap out in the evenings on Teresa's terrace. As might be expected a whole suite of species occurs at this time of year that are not seen later on, most notably the endemic Spanish Puss Moth, but also including UK rarities such as Ringed and Sloe Carpets, Broom-tip, Lunar Double-stripe and Silver Cloud. Among the rare UK migrants often seen in the Picos at this time of year are Three-humped Prominent, Dewick's Plusia and Pale-shouldered Cloud.
Also of interest to moth enthusiasts will be non-British species such as Elegant Smoky Moth,
© Teresa Farino Isabelle's Chevalier and Dark Herringbone among the geometrids, plus Spiny Hook-tip, Cork-oak Lappet, Oak Marbled Brown and the lovely green-striped noctuid Valeria jaspidea. Day-flying moths of note might include the first Crowned Moths of the year, plus Narrow Rose-banded Wave and possibly even the stunning Tau Emperor in the beechwoods.
NB For the duration of the tour, you will be covered by Teresa's permits both to catch butterflies and trap moths (a legal requirement for Spain). All the lepidoptera records we collect will be submitted to the Cantabrian regional government and the Picos de Europa National Park authorities, under the auspices of a project initiated by Teresa in 1989.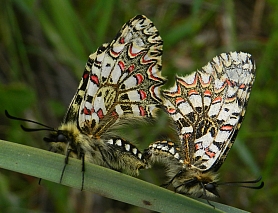 © Teresa Farino
Spanish Festoon Special
Leader: Teresa Farino
2017 Dates: Weds. 29 March – Mon. 3 April
(6 days/5 nights)
Price: 970€, including half-board, en suite accommodation at Posada El Hoyal, picnic lunches, minibus/4WD transport throughout, all entry fees and the services of Teresa Farino as leader. A single-room supplement of 110€ is applicable. Flights and travel insurance (obligatory) are the responsibility of the client.
Although the cost of the tour is given in euros, clients may pay in sterling, the exchange rate to be calculated at the time of payment using www.oanda.com
Pick-up details: For this tour, clients will be booking their flights independently. Teresa will be meeting the British Airways flight from London Heathrow to Bilbao, which gives us by far the most convenient flight times for these dates, as well as almost six full days in the field. Details are as follows:
29 March: BA0466
Departs London Heathrow at 08.25
Arrives Bilbao at 11.25
3 April: BA0469
Departs Bilbao at 19.40
Arrives London Heathrow at 20.35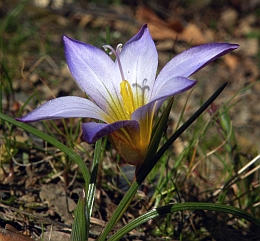 © Teresa Farino
Alternatively, those travelling to the Picos independently can arrange to meet the group at Posada El Hoyal on the first evening.
Group size: maximum 8 persons.
Booking information: please contact Teresa Farino for further details and a booking form, or if you have any queries about this tour.
E-mail:
Office phone:
(+34) 942 735154
Mobile phone:
(+34) 656 337129
Address:
Apartado de Correos 59
39570 Potes
Cantabria
Spain